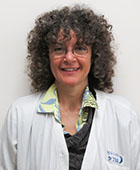 Dr. Eshach-Adiv is a graduate of the Technion's Faculty of Medicine in Haifa, a specialist in pediatrics, with a subspecialization in pediatric gastroenterology and nutrition, which she obtained in the combined program of the Hospital for Sick Children in Boston and Massachusetts General Hospital, which are affiliated with Harvard University, MA.
Dr. Eshach-Adiv served as Deputy Director of the Department of Pediatrics at Rambam Children's Hospital in Haifa and as a Senior Physician at the Institute of Pediatric and Adolescent Digestive Diseases and Nutrition. In the course of her work she participated in numerous studies related to pediatric metabolism and nutrition, as well as in a breakthrough study regarding protein-losing enteropathy.
Dr. Eshach-Adiv is currently Director of the Pediatric Gastroenterology and Nutrition Service as part of the Gastroenterology Institute at Hillel Yaffe.