The visit was accompanied by the hospital administration, headed by Dr. Mickey Dudkiewicz, as well as senior officials from the Ministry of Health and chairman of the Government Hospitals Division, Dr. Dudu Dagan.
Among the topics discussed – the need for building a new bombproof Emergency Medicine Department (Emergency Room) and Hospitalization building, purchasing Pet-CT and ECMO machines, opening a cerebral angiography unit, adding necessary beds including two additional internal medicine departments for the hospital, in light of the rapid natural growth in the population of the region.
During his visit, Minister of Health Nitzan Horowitz saw the activity close-up in the hospital which has had one of the highest occupancy rates in the State of Israel in the coronavirus (COVID-19) and internal medicine departments in recent years. The minister and his entourage toured the Department of Emergency Medicine, the Coronavirus Department, the Stroke Unit, the General Intensive Care Unit, the Isotopes (Nuclear Medicine) Institute, and the Neonatal Care Department.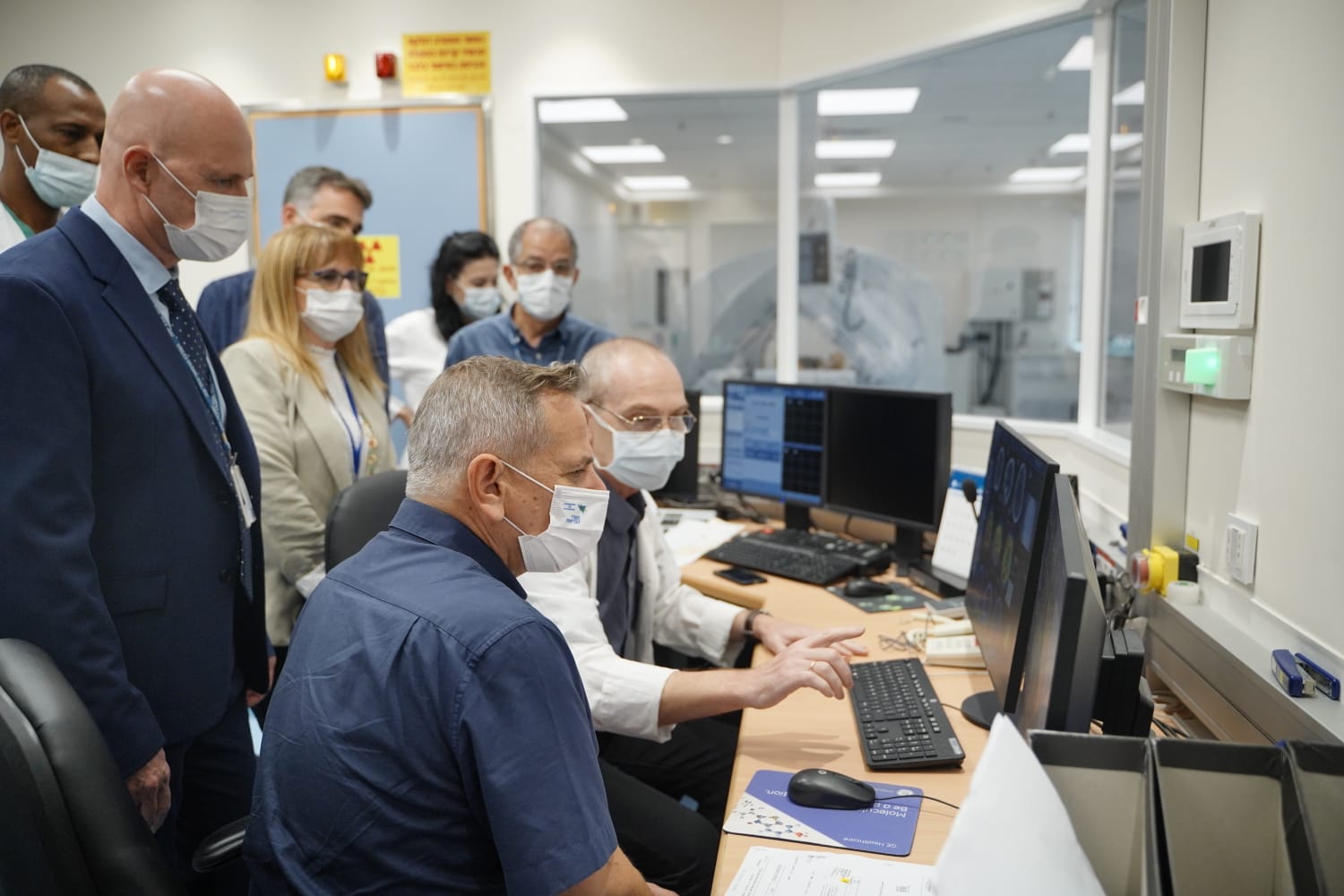 Minister Horowitz during his visit to the Nuclear Medicine Institute at Hillel Yaffe
As noted, Director General of the Medical Center, Dr. Dudkiewicz, showed Minister Horowitz how the medical center has developed in recent years. Among other issues, he spoke about the expansion of the hospital in all areas: additional services, improvement and building of hospitalization departments, purchasing advanced medical equipment, and more.
Dr. Dudkiewicz noted that in light of the rate of the region's population growth and the fact that the hospital currently serves over half a million residents, the hospital must be allowed to purchase life-saving equipment such as ECMO machines and cerebral angiography equipment, for which the Ministry of Health has not yet granted approval of their use.
The Minister was also shown short and long-term future plans, including the beginning of construction of a new building for the Department of Emergency Medicine, a new Gynecology and Obstetrics Department building, a new Pediatrics building, and more.
During the tour, the Minister noted how impressed he was with how the employees had adapted to the situation after the cyber attack, and how they had harnessed themselves exceptionally well to continue providing high-quality and accessible treatment to the patients.