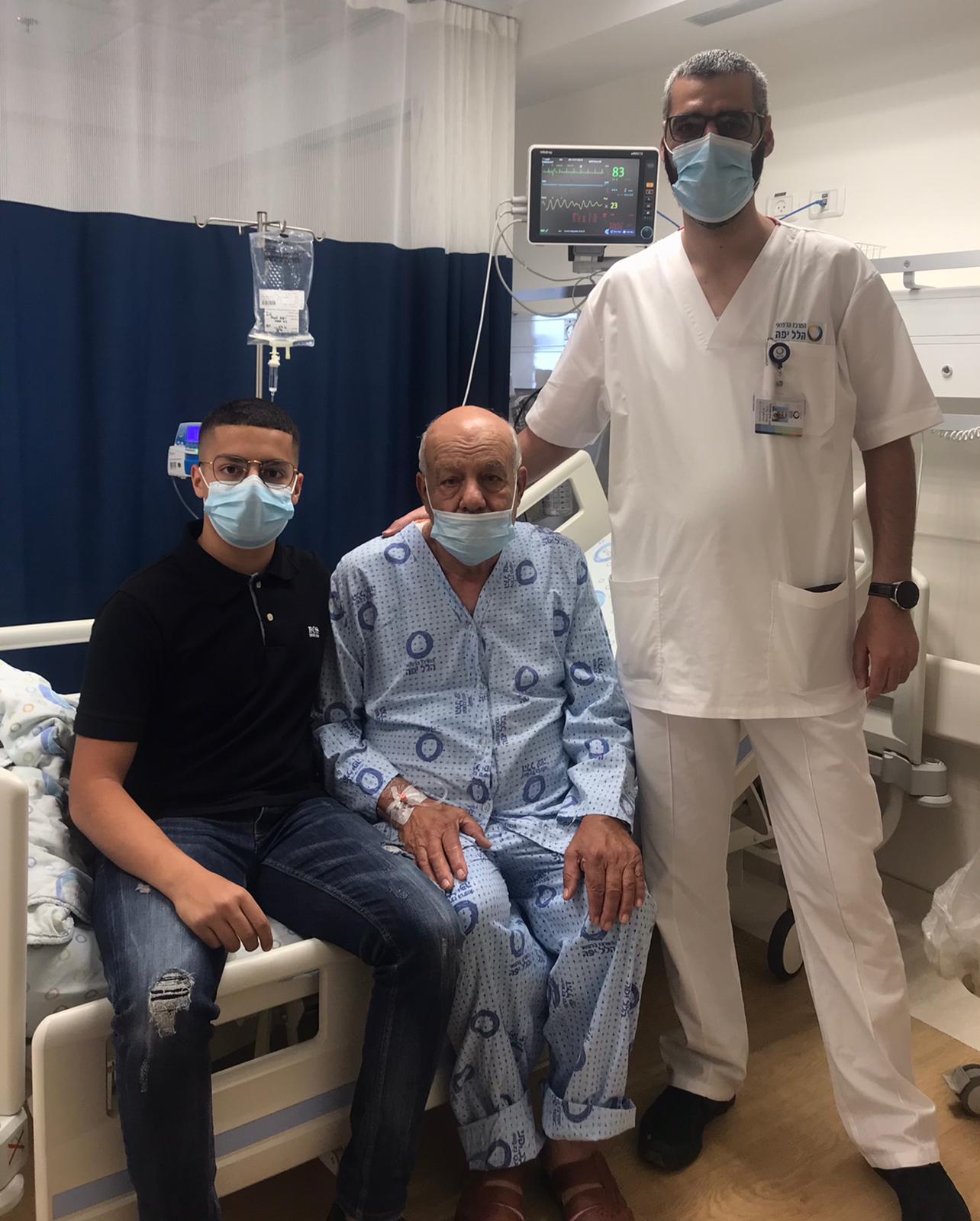 Omar Fahmawe, his grandfather Afif,
and nurse Mr. Mahmoud Abu Khalaf
As part of efforts to promote health in the community, the Hillel Yaffe Medical Center holds lectures on various topics including strokes, diabetes, HIV, and more.
Last Thursday, Mr. Mahmoud Abu Khalaf, a qualified nurse in Hillel Yaffe's Neurology Department, and who is responsible for promoting the subject of strokes at the hospital, came to the Jatt High School, to give a lecture on strokes to the tenth graders. During his lecture, Abu Khalaf described to the students which signs indicate a stroke and what someone should do if they identify such signs. One of the students who participated was 16-year-old Omar Fahmawe. For Omar it was another usual morning. He never dreamed that when he would return home after school, he would be the one to diagnose that his grandfather was having a stroke.
When he got back home in the afternoon, his mother told him that his grandfather, Afif, was not feeling well. Omar went to visit him and saw he was having trouble moving his arm and leg. After reviewing the signs for identifying a stroke which he had learned that morning during the lecture, he was concerned that this was a stroke. He quickly took his grandfather to the Hillel Yaffe Medical Center Emergency Room. After a string of tests, it was diagnosed that he was indeed suffering from a stroke, expressed in bleeding in his grandfather's head. He received treatment to stop the hemorrhaging and prevent it spreading, and was hospitalized for observation in the hospital's Neurology Department.
Mr. Mahmoud Abu Khalaf, a nurse in the Neurology Department, and who is responsible for promoting the subject of strokes at the hospital, notes: "This is a hair-raising coincidence. Our activities during the Stroke Awareness Month included online lectures to the public, public conferences, and also lectures to young people – all so that people would know how to identify the clinical signs of stroke in time and receive life-saving treatment. I never dreamed that day that my lecture would have such immediate results. Omar's alertness, and the quick hospitalization, prevented severe damage which the grandfather could have suffered."
Omar's grandfather, Afif, is still hospitalized for observation and is feeling good.