Dr. Dima Aru Zahalka (29) and Dr. Maged Zahalka (30) met during their medical studies at the Technion in Haifa. Dr. Dima began her journey at the Hillel Yaffe Medical Center as a fourth-year student and physician's assistant in the Pediatrics Emergency Room and continued on from there to internship and residency in the Pediatrics Department. Dr. Maged also began his internship at Hillel Yaffe and continued on to residency on a direct track in Cardiology.
Dr. Dima and Dr. Maged have a lot in common: They were both born at the Hillel Yaffe Medical Center, studied medicine at the Technion in Haifa, completed their internship at Hillel Yaffe – during which time they also got married – and are now in the middle of their residency at Hillel Yaffe Medical Center. They feel the hospital is their home in all senses. "We were both born at Hillel Yaffe and when I was pregnant, I didn't feel there was any other option. It was clear to me that I would have my first son here. We spend most of our time here and feel this is our family," says Dr. Dima.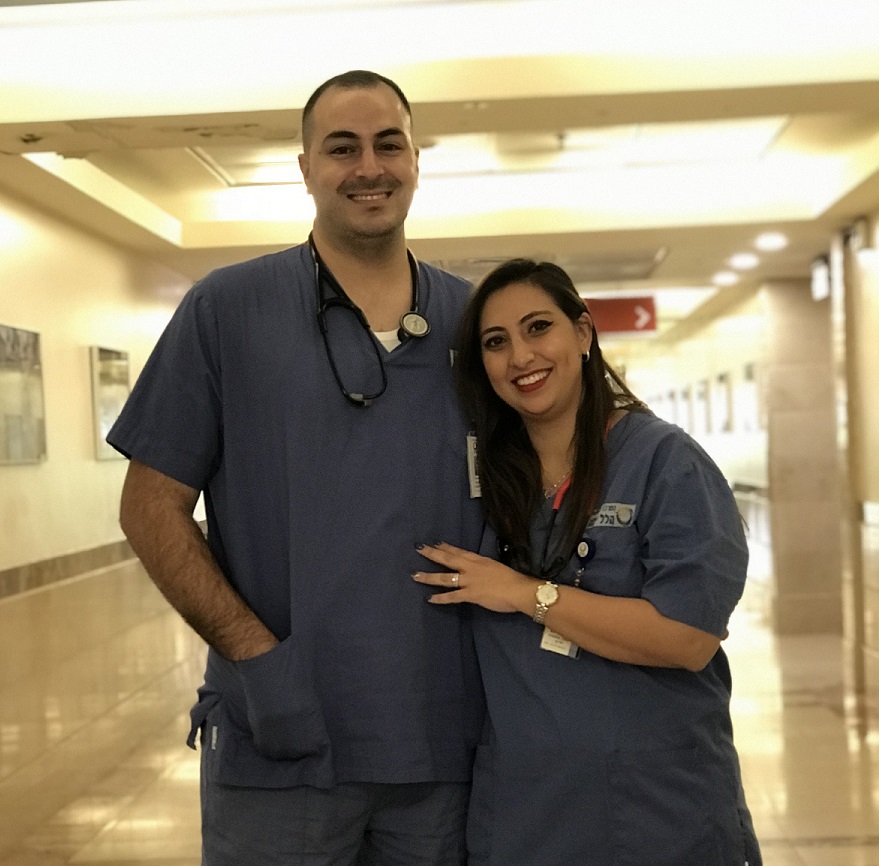 Between their intense shifts, Dima and Maged make the most of their free minutes for couple's quality time in the hospital cafeteria. "We have regular shifts. Dima works on the even days of the week and I work on the odd days, so we can look after our son. The staff in the departments laugh that this way they know if we are at the hospital or at home. Luckily, our department directors fully support and are considerate of us," says Dr. Maged.
Dr. Dima's decision to study medicine came from her home. Her father, the late Dr. Dawud Aru, passed away when she was in second grade. "He worked in the Pediatrics Department at Hillel Yaffe, and I knew from the beginning that I wanted to continue his legacy. For me this is closing a circle, to work in the same department where my father worked."
The couple live in Kafr Qara and it is important to them to contribute and participate in the hospital's development. "As residents of the area, it was important to us to work in a hospital in our region. To do our part for the benefit of the area's residents and to be part of our hospital's growth, regarding everything to do with academia and research, new services, and more."