Hillel Yaffe Medical Center's Cardiac Division carried out a unique cardiac catheterization procedure in two patients suffering from refractory angina pectoris – that is severe chest pain, for whom no effective treatment had been found until now.

Patients with chronic angina pectoris suffer from a significant reduction to their quality of life and have difficulty in living a normal life. Almost every regular action which requires effort, such as walking or climbing stairs, leads to severe pains and even shortness of breath. Most of the patients have undergone several therapeutic cardiac catheterization procedures, some have even had bypass surgery, but despite all these efforts they continue to suffer from severe chest pains.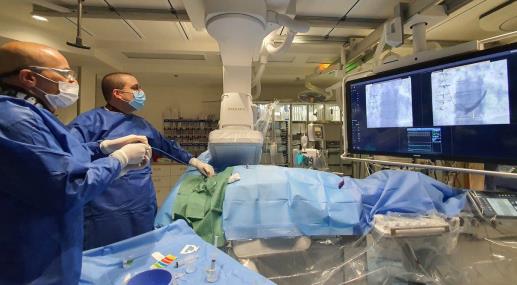 Photo: The unique cardiac catheterization procedure at the Hillel Yaffe Medical Center Cardiac Division. Photo credit: Spokesperson's office

"These patients are liable to undergo additional unnecessary cardiac catheterization procedures, which will show that the blood flow in their major arteries is normal and there is no problem. When the stenosis is in the smallest blood vessels of the heart, it cannot always be detected with regular cardiac catheterization, and the diagnosis can be missed. This innovative cardiac catheterization procedure, performed under sedation, enables treatment of blockages and/ or stenosis in the smallest cardiac blood vessels. This is done by inserting a unique stent to control the blood flow in the cardiac muscle to help the layers of muscle which suffer from reduced blood supply, and also allow regular blood flow," explains Dr. Ofer Kobo, a senior physician in Hillel Yaffe Medical Center's Cardiac Division. Dr. Kobo carried out the procedure for the first time under the guidance of Prof. Shmuel Banai, Director of the Division of Cardiology at the Tel Aviv Sourasky (Ichilov) Medical Center, who developed the product.

Prof. Ariel Roguin, Director of the Cardiac Division at Hillel Yaffe, noted: "This procedure has been performed over the past decade all over Europe and in a small number of Israeli hospitals. The cardiac catheterization procedure was carried out in our state-of-the-art Cardiac Catheterization Room, which is fitted out with the most advanced technological equipment, which is needed, as noted, to carry out this procedure. I am delighted that we are able to provide effective treatment for those patients suffering from refractory angina pectoris, who previously had no treatment or drug which would definitely help them or improve how they felt."