Two innovative minimally invasive surgeries for treating glaucoma were performed for the first time this week in Israel and at the Hillel Yaffe Medical Center. During the first operation, carried out by Director of the Ophthalmology Department, Dr. Beatrice Tiosano, use was made of a state-of-the-art Israeli invention, called MIMS (minimally invasive micro sclerotomy). The surgery included creating a tiny channel, through which the intraocular fluid drains so as to reduce intraocular pressure, and, at the same time, reduces dependence on medication to lower the pressure.
The second operation, carried out for the first time in a public hospital in Israel, by Dr. Eran Berkovich, a senior physician in the Ophthalmology Department and a specialist in glaucoma, was carried out with the aid of a special instrument called a Kahook Dual Blade. This instrument enables the removal of the tissue in the glaucoma patient's eye, which comprises a significant component in creating the resistance to drainage of the intraocular fluid. Removal of this tissue, with no damage to the surrounding tissue, helps in suitable cases to reduce the intraocular pressure.
It should be noted that both types of operation can be performed only as glaucoma surgery or combined with cataract surgery.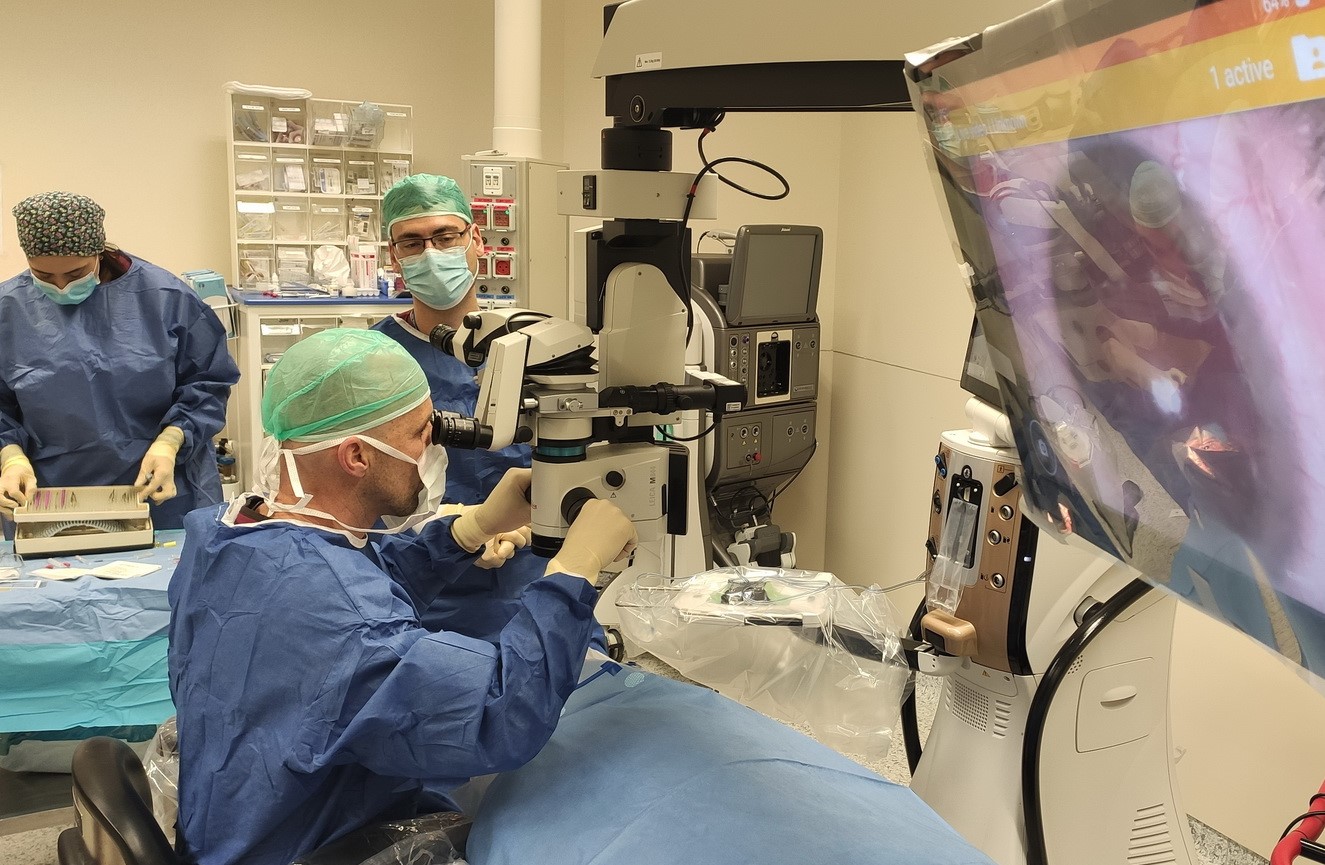 Dr. Eran Berkovich and Dr. Kfir Tal during the surgery at Hillel Yaffe
"MIMS – minimally invasive glaucoma surgery, which includes use of technologies like these, has created a breakthrough in glaucoma surgery by enabling the reduction of intraocular pressure in a less invasive and safer form than that of traditional glaucoma surgery. These new techniques eliminate the need for a stent, which can sometimes cause various side effects as a result of leaving an external element in the eye," notes Dr. Tiosano.
"In addition, these means give us better control, provide more effective and safer treatment to the patients, and, of course, improve the quality of life for those suffering from this disease," she adds.
Glaucoma is one of the primary reasons for irreversible blindness in Israel and throughout the world. It is estimated that over 63 million people (3.54% of the global population) suffer from glaucoma. The only proven treatment for glaucoma is reduction of intraocular pressure, with the goal of preventing irreversible damage to the optic nerve. Most patients receive regular medication, and some require surgery to stop the progress of the disease.