L., a Yamas Border Police fighter from the Judea and Samaria Division, who charged at the terrorist during last week's terrorist attack in Hadera, is hospitalized in the Hillel Yaffe Medical Center's Orthopedics Department in mild condition. However, the day after he was hospitalized, he began to feel pain in one of his eyes. "It began with bothersome itching and stinging, and I asked my girlfriend to look whether perhaps I had an eyelash inside my eye," he relates, "and she didn't see anything, but the stinging didn't go away."
Since L. was still in the hospital, he turned to the staff in the Orthopedics Department, and was sent for an examination in the Ophthalmology Clinic. There they immediately saw that there was a piece of shrapnel in his eye, the result of the spray of bullets which had been fired at him during the Hadera terrorist attack.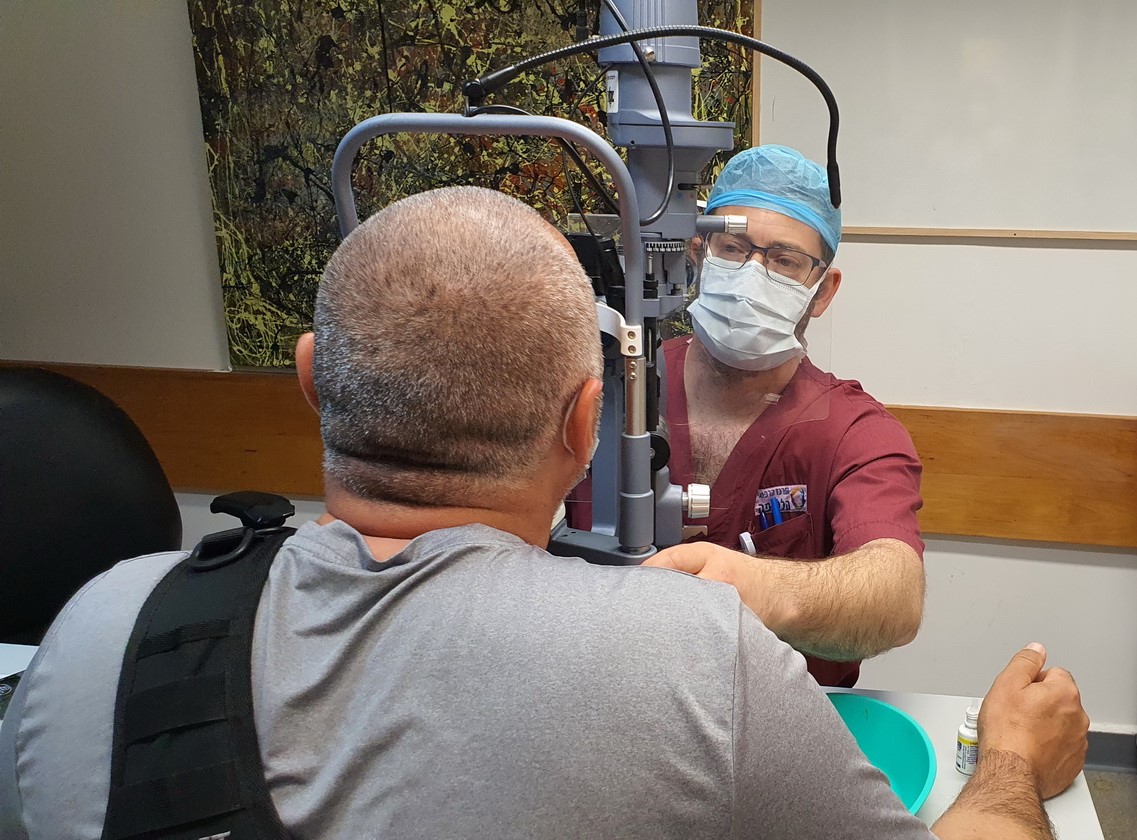 L. is examined by Dr. Scheyer during his visit to Hillel Yaffe Medical Center's Ophthalmology Clinic
"At first we tried to remove it in the usual way, using professional evaluation and OCT," describes Dr. Ori Scheyer, a senior physician in Hillel Yaffe Medical Center's Ophthalmology Department. "We quickly understood that surgery was needed, since the shrapnel had deeply penetrated the cornea and we were afraid of serious harm to his vision or even a danger of him losing his sight."
The piece of shrapnel was carefully removed in its entirety during the surgery, and without harming the eye. This week L. came for a follow-up visit to the Ophthalmology Clinic, where Dr. Scheyer gave him a check-up.
"What started out with me thinking was an eyelash turned out to be shrapnel," concludes L., while expressing his gratitude to the staff of the Ophthalmology Department and Orthopedics Department for their devoted and professional care.