Tammy Livni Tzur, aged 37, from Zichron Yaakov, was in the 37th week of her third pregnancy, when she started experiencing intense stomach pains. She lay down to rest on the sofa, hoping they would go away, but the pain only got worse and was accompanied by dizziness and cold sweat, and she lost consciousness for a few moments.
Her husband immediately called for an ambulance, which brought her straight to the Labor and Delivery Room at the Hillel Yaffe Medical Center. During an ultrasound examination, the doctors diagnosed a drop in fetal heartbeat, and it was decided to bring her straight to the operating room. Within just seven minutes of having reached the hospital, Tami underwent an emergency caesarean section and the baby was quickly delivered, with a very slow heartbeat. The doctors began to resuscitate him and he was transferred in stable condition for further treatment in the Neonatal Care Department.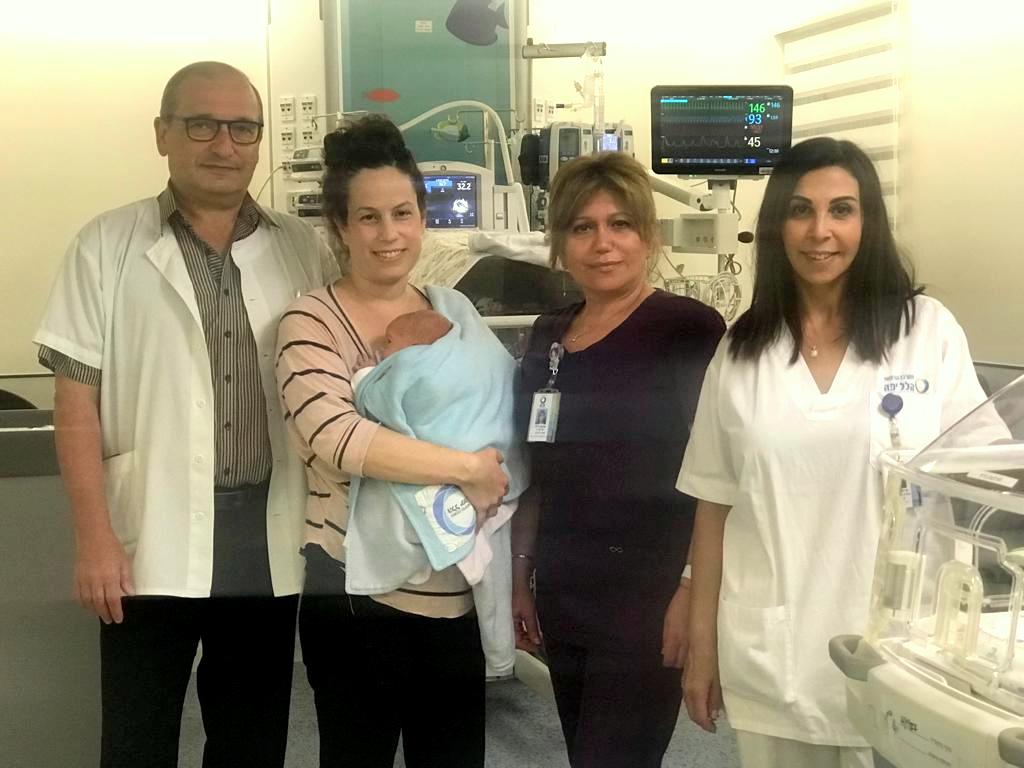 Tammy Livni Tzur with Dr. Haim David, midwife Gila Pinhas and Neonatal Care Department nurse, Michal Levi-Tam

Head of the Maternity Ward and Delivery Room at the Hillel Yaffe Medical Center, Dr. Haim David, who operated on Tammy together with Dr. Milana Gelman, relates: "When we opened up the stomach we diagnosed a large uterine rupture, which was continuing to hemorrhage, alongside many blood clots in the abdominal cavity. After the baby was delivered, we also diagnosed placenta accreta which could not be removed, which also caused significant bleeding. Tammy lost over five liters of blood, and we had to give her 14 blood products."
After the surgery, the Director of the Gynecology and Obstetrics Department, Prof. Motti Hallak, Director of the Gynecology and Gyneoncology Unit, Prof. Ilan Bruchim, and Dr. Jonia Amer Alshiek, Senior Physician at the Urogynecology and Pelvic Floor Unit were also summoned, and they succeeded in stopping the hemorrhaging. "Tammy's life was in danger. She suffered from severe hemorrhaging which didn't stop, which forced us to carry out a hysterectomy to stop the bleeding and save her life," explains Dr. Bruchim.
Surgery was successful and Tammy was hospitalized in the Maternity Ward. The infant, weighing 2.650 kg. at birth, was hospitalized for continued treatment and observation in the hospital's Neonatal Care Department. Both feel well and are expected to be released in the next few days.