How does it feel when your workplace gifts you with money? Ask Hillel Yaffe Medical Center's employees. The management of the Hillel Yaffe Medical Center presented each of its employees with a special 5-shekel coin of appreciation which has been issued by the Bank of Israel as a special edition, as a sign of appreciation and honor to the medical teams for their contribution and struggle against coronavirus.
During a celebratory and enjoyable event, held by the medical center management in partnership with the Bank of Israel, each employee was given the coin of appreciation. In attendance at the event were Director of Hillel Yaffe Medical Center Dr. Mickey Dudkiewicz; Administrative Director of the hospital, Dr. Amnon Ben Moshe; Director General of the Bank of Israel, Ms. Shulamit Geri; senior representatives from the Bank of Israel, the departments of currency and communications, government, and community relations, and more.
During the day, representatives from the Bank of Israel Currency Department conducted short professional training sessions to passersby and business owners on the design of the coin, and how to spot counterfeit banknotes with the help of the security features on the notes.
Dr. Mickey Dudkiewicz, Director General of Hillel Yaffe Medical Center, said: "Hillel Yaffe was one of the most crowded hospitals during the COVID-19 waves. Our staff worked night and day to provide the very best and most professional care for every patient. Gifting the coin to all the employees is our modest thanks for this challenging period."
Director General of the Bank of Israel, Ms. Shulamit Geri: "The Bank of Israel is proud and excited to meet the medical teams of the Hillel Yaffe Medical Center, and to award them with the coin of appreciation. The coin was issued as a special sign of appreciation to Israel's medical system for its contribution to the struggle against coronavirus, saving the lives and health of the country's citizens."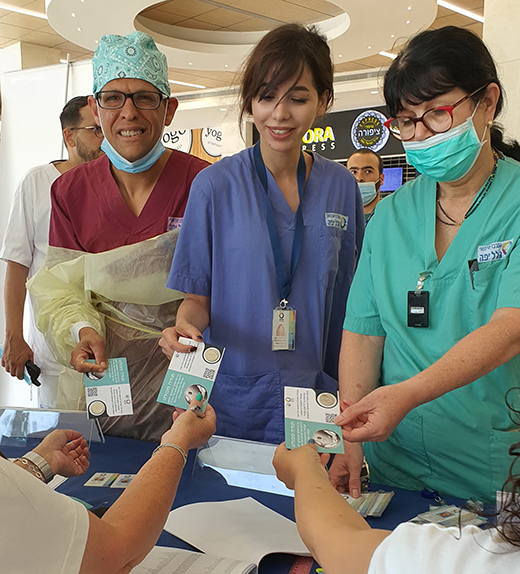 Awarding the employees the 5-shekel coin as a token of appreciation. This morning at Hillel Yaffe