About 150 participants from a range of fields which help those who have experienced sexual violence within or outside the family, participated in the study day, intended for professionals in areas which help the person: healthcare services, welfare departments, lawyers, emergency centers, youth villages, aid centers, medical experts, therapists and psychologists from the field of mental health for children, adolescents, and adults, etc.
The primary purpose of the conference was to introduce the activity of the Helena Center – the center for victims of sexual assault which opened at the Hillel Yaffe Medical Center in November 2020.
The conference opened with a lecture by social worker, Anat Ofir, the director of the Haruv Institute initiative to prevent child abuse, who spoke about the characteristics of sexual abuse, its repercussions, and the blocks to reporting it.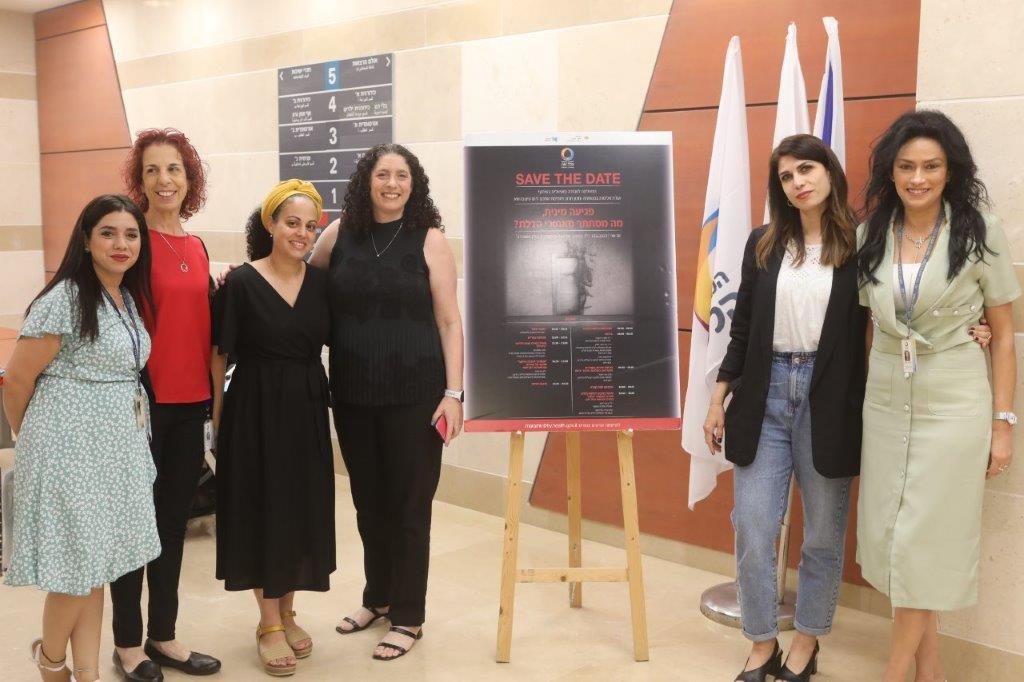 Alina Fishzon, social worker; Maram Ka'aour, social worker; Dr. Rinat Reines, Nirit Krivitsky, social worker; Yisrael Dagan, social worker, and Ahlam Sheikh Ahmad, social worker
In accordance with the day's objectives, the Helena Center – the center for victims of sexual assault at Hillel Yaffe – together with its director, Dr. Rinat Reines, and coordinator of the social services, Ms. Nirit Krivitsky, were introduced. The two reviewed the figures for those coming to the center since its establishment, while emphasizing the complexity in the required sensitive treatment.
Later, the director of the Beit Lynn Center in Netanya for protection of children and youth, Shiri Schussheim, clinical social worker and psychotherapist, introduced Beit Lynn as a therapeutic framework for children and youth and explained what is done there, particularly together with the Helena Center.
During the study day, the social theater, Platforma, put on a play which featured actresses who had themselves experienced sexual assault. At the end of the day, those present witnessed the testimony of someone who had survived sexual abuse, who shared the journey she had travelled in a way which aroused great respect, and received warm reactions.