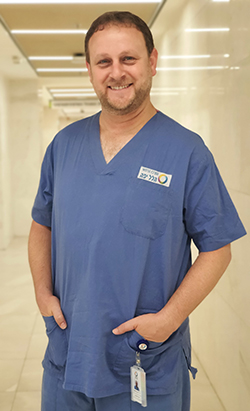 Dr. Eran Leshem
Dr. Leshem, a graduate of Ben Gurion University's Faculty of Medicine, performing his residency in internal medicine and cardiology at Tel Aviv Medical Center. Dr. Leshem also has a master's degree in health systems administration from Ben Gurion University's School of Management. After completing his residency, Dr. Leshem held both clinical and research fellowships (four years), specializing in arrhythmias at Beth Israel Deaconess Medical Center (Boston, USA), one of the world's leading medical centers, affiliated with Harvard University.
During his work in the US, Dr. Leshem was significantly involved in research of ablation and heart mapping technologies and MUGA scans, helped develop innovative technologies and techniques in the field and published close to 20 papers on these subjects.
After returning to Israel, Dr. Leshem joined the Cardiac Division at Sheba Medical Center, as a senior physician at the Davidai Arrhythmia Institute.
In July 2022, he joined Hillel Yaffe Medical Center as Director of the Arrhythmias and Pacemaker Unit, replacing Dr. Guy Rozen, who moved to Boston in the United States.
Dr. Leshem is a member of the Israel Heart Society and the Israel Working Group on Pacing and Electrophysiology and the European Heart Rhythm Association (EHRA).
The Electrophysiology Unit is part of Hillel Yaffe Medical Center's Cardiology Division, headed by Prof. Ariel Roguin. The unit is engaged in issues such as diagnosis and treatment of arrhythmias, invasive electrophysiology tests, ablation to treat arrhythmias, implantation of all types of currently available pacemakers and defibrillators, and more.
In his new position, Dr. Leshem plans on focusing on continued development and branding of the unit as a center of excellence for holistic treatment for all arrhythmias, including the introduction of innovative procedures and technologies. A great deal of attention will be focused on establishing a direct connection with the Emergency Medicine Department and the Internal Medicine Departments in order to optimize treatment of patients with arrhythmias. Dr. Leshem also plans on strengthening the unit's relationship with community cardiologists and family physicians in the general area of the medical center.