Everyone who knows Hila Arza, 47, from Kiryat Ata, can't image that she had a malignant tumor on one of her vertebrae. Arza, a generally healthy woman, has been playing catchball in a professional league for over a decade and in recent years has also become a coach. The sport, as mentioned above, is part of her daily routine, and naturally, she thought that the back pain she had suffered from over the past year and a half was due to excessive sports activity or a wrong movement during a game.
When she looks back, she admits that over the past years she started experiencing lower back pain, which spread to her upper back, shoulder blades and shoulders. "As someone who refuses to take pain relievers, I started having medical massages and going to physical therapy, but the pain continued and got to the point that before a game I would take a pain reliever before going out on the court," said Arza.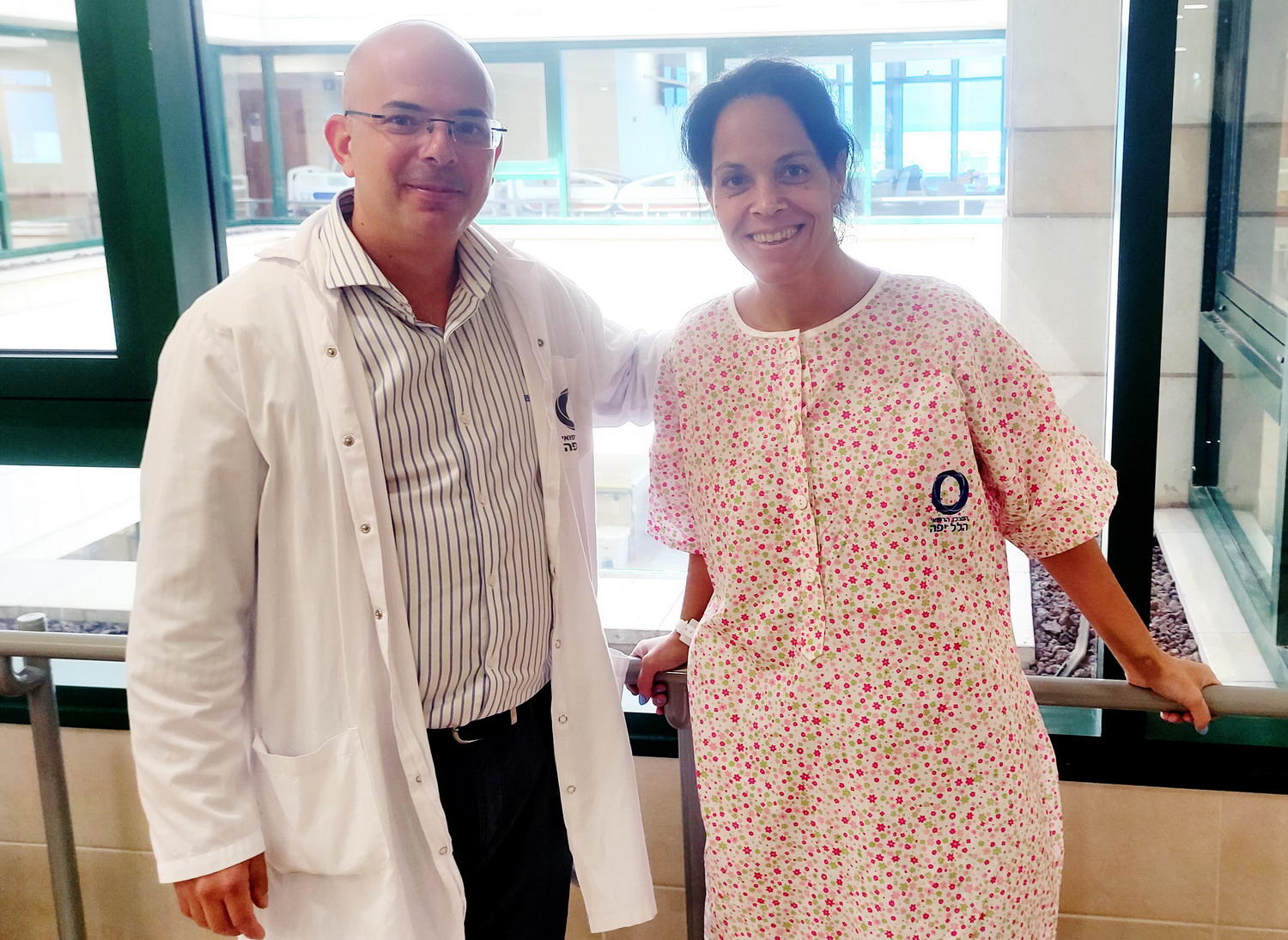 Hila Arza and Dr. Eyal Behrbalk in Orthopedics A at Hillel Yaffe Medical Center
Just a month ago she participated in the Maccabiah as a member of the catchball team and came in very respectable third place. A few days later, she felt sharp pain in her shoulder blade and thought that she had probably made a bad move during the game. After several days of pain and after taking pain medication, her condition continued to worsen, and Arza realized that something was not right. She felt that her legs were slowly growing weaker, and the next morning she could not even manage to stand up on her own. Those close to her, who saw her condition, forced her to go to the emergency room near her home. Hila was discharged home and told that she needed to rest.
Arza did not give up and, at the recommendation of close friends, she went to consult Dr. Eyal Behrbalk, Director of the Orthopedics A Department at Hillel Yaffe, when she was already in a wheelchair. Dr. Behrbalk referred her for a CT, which made them suspect an abnormal finding on her spine. She was taken immediately for an MRI of the spine, which verified their suspicions - lymphoma which had developed into a tumor on the T4 vertebra of the spine. The next morning, Arza went in for complex surgery which took several hours, during which they removed the vertebra and the tumor. The surgery was a success and several days later Hila was able to stand.
Arza remains hospitalized in the Orthopedics Department. "I feel very, very lucky. When I came to Hillel Yaffe, despite the bad news, I knew that I was in good hands. I have a long road of rehabilitation and treatments ahead of me, and it won't be easy, but with the help of my family and close friends who are very supportive, I am sure that I will get through it well."