The conference, which was organized again this year by Hillel Yaffe Medical Center's Nursing Administration was opened with a display of the research presented on posters in the hospital's conference area and a series of lectures that discussed the activity in the field of innovation and research in the various fields of nursing over the past year.
The day also included fascinating professional lectures and diverse issues reflecting the work in different fields over the past year were presented, including COVID-19, cyber, vaccines, cardiac rehabilitation, palliative care, obstetrics and more.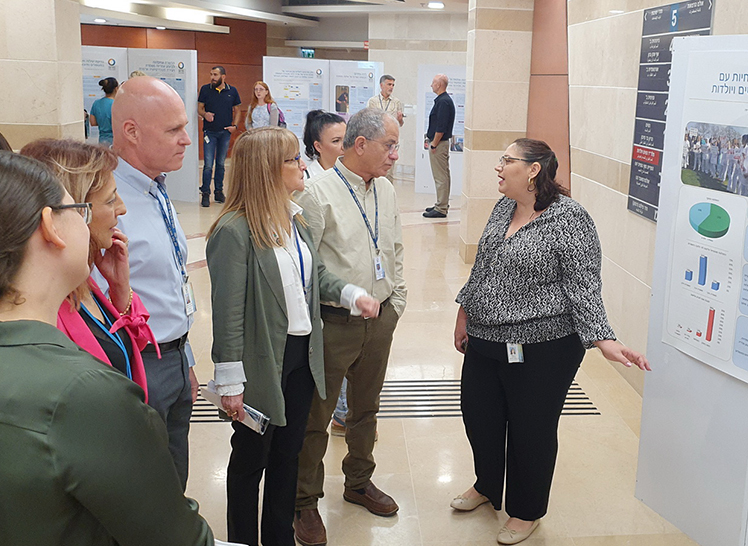 Medical Center management reviewing the presenters at the nursing research conference at Hillel Yaffe
The conference was opened with greetings from the hospital administration. HYMC's Director of Nursing, Ms. Dina Fainblat, noted in her remarks that the commitment to learning, researching and scientific support are an integral part of the nursing profession. She further emphasized the pride she feels that an event such as this is being held despite the load on the staff in all the departments and units. She also thanked her staff for organizing the event, particularly the Area Coordinator in the Nursing Administration Dr. Anna Ofir, and the Research Coordinator Ms. Sara Freiman, who were the driving forces behind the success of the Research Day.
In his comments, HYMC Director General, Dr. Mickey Dudkiewicz, emphasized the unique work in nursing and its impressive achievements, and Director of Nursing Services in the Government Medical Center Division, Ms. Inbal Yarkoni, noted that the level of nursing at Hillel Yaffe in general and specifically the nursing research days are among the finest, highest quality and most impressive in the healthcare system.
At the end of the day, everyone who attended expressed tremendous satisfaction from the structure and content of the conference and emphasized their anticipation for the fifth conference next year.