Nobody prepared Iman (30) and Samer Abu Fana Daghash from Kfar Kara for another pregnancy, and certainly not for triplets. With six children at home - the youngest of which was only three months old, Iman was very surprised to learn that she was in the advanced stages of pregnancy with triplets. Despite the challenges, Iman and her husband Samer decided to continue the pregnancy. Throughout the pregnancy, Iman was monitored by Prof. Rinat Gabbay–Ben-Ziv, Director of Hillel Yaffe's Maternal-Fetal Medicine Unit.
In Week 30 of her pregnancy, Iman felt strong contractions and came into the Obstetrics Emergency Room at Hillel Yaffe, when she was already in the process of giving birth. She was rushed in for an emergency C-section and gave birth to three tiny baby girls. Because of the preterm birth, the babies were hospitalized in the NICU for about 45 days.
Right before being discharged home, the parents thanked the dedicated NICU staff that cared for their babies for six weeks. The parents also were emotional when saying that the six children at home were eagerly awaiting the arrival of the triplets. "Up until now, they could only see them in pictures. They are so excited for the babies to be discharged so that they can meet them face to face.
Congratulations!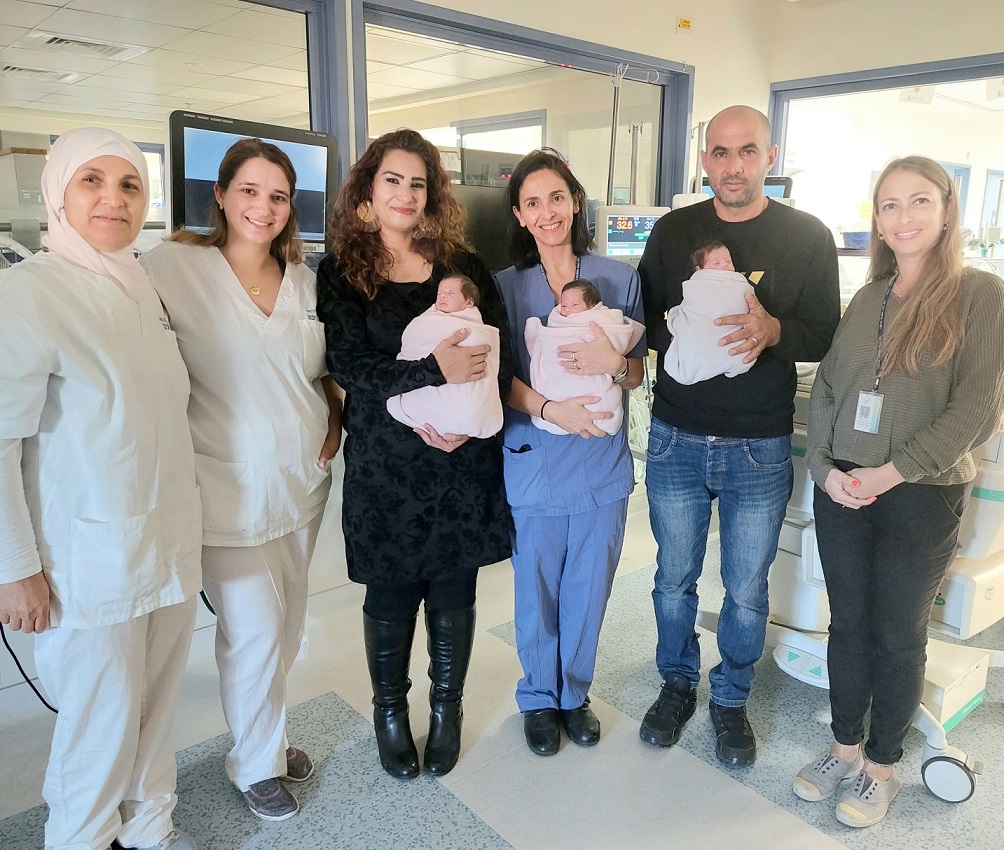 Iman and Samer Abu Fana Daghash with their triplets and the Hillel Yaffe staff that cared for them