In honor of World Prematurity Day, which is observed in November, Yasmin Peretz, the charge nurse of the HYMC NICU, organized an emotional and empowering meeting between parents of premies who had been NICU patients and parents of premies who are currently hospitalized in the NICU. The objective: To strengthen, advise and support the parents, to provide a sympathetic ear for the difficulties, dilemmas and fears they are facing during this very challenging time.
That morning, she decorated the NICU with balloons and posters with pictures of babies and children who had been NICU patients alongside pictures of them today. The entire NICU staff, doctors, nurses, social workers, physical therapists and dietitian, were excited for the face-to-face meeting with the families, and especially the premies who had grown. The veteran parents shared what they had gone through over the years with the staff and everyone else, the challenges, difficulties and successes in raising a child who was born prematurely. Afterwards they sought advice, asked questions and participated in an open discussion that was held between the NICU staff and the parents.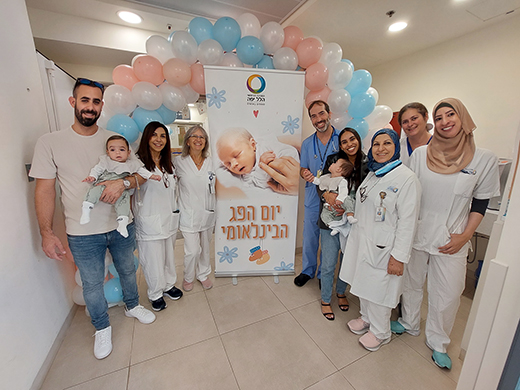 World Prematurity Day: a moving event at the HYMC NICU
Several NICU "graduates" made a surprise appearance along with their parents so that they could personally meet the people who saved their lives and cared for them with such dedication.
Director of the Newborn and Neonatal Care Department, Dr. Amit Hochberg, gave the participants a tour of the new NICU and showed the children the incubators in which they themselves grew when they were in the NICU along with the equipment that was used to care for them. Dr. Hochberg and the NICU staff thanked all the parents who came and said, "We are excited and bursting with pride to see these wonderful children here with us. To think that a few years ago they were fighting for their lives, were able to survive and they are already big and healthy kids. Each and every one of them is a real miracle."