Sisters Asil and Vivian Masarwa live next to each other in Baqa al-Gharbiyye. Vivian (28) became pregnant, and a month later so did her older sister Asil (29). Last Saturday night the sisters came in together to the Obstetrics ER at HYMC. Asil was at the start of Week 36 and suffered from swollen legs. When she was examined by Dr. Danit Tarashandegan, a resident in the Gynecology and Obstetrics Division at Hillel Yaffe, it turned out that she was dilated 3 centimeters, with contractions, even though she didn't feel a thing. Additionally, the baby was breach, and she was sent for an emergency C-section after she was further dilated. Her sister Vivian was next to be examined by Dr. Tarashandegan. Vivian came in for a check-up in Week 40 of her pregnancy. Like her sister, she too, was dilated 2.5 cm, without feeling any pain. Dr. Tarashandegan explained to her that she could be induced and deliver.
At 11:00 p.m. that night, Asil gave birth to a baby boy by emergency C-section. Her son weighed 2.600 kg and was transferred to the NICU for further care. The surgery was performed by Dr. Rawuya Hosein Aro, a senior physician in the Gynecology and Obstetrics Division, along with Dr. Tarashandegan and midwife Henia Guetta.
In the meantime, Vivian advanced in labor and at 4:30 a.m. in a normal delivery, gave birth to a baby girl weighing 3.200 kg, with the assistance of midwife Ira Linzki. The two sisters were transferred to the Maternity Department for recovery, with the department staff surprising them by having them share a room.
While lying next to each other, they thanked the staff for the professional and dedicated care they received, "While our deliveries weren't easy, thanks to the wonderful and professional staff we got through them successfully and are now feeling well. We never imagined that we would give birth together and share a room in the department, and there's nothing more exciting than that. It feels like when we were growing up," said the two.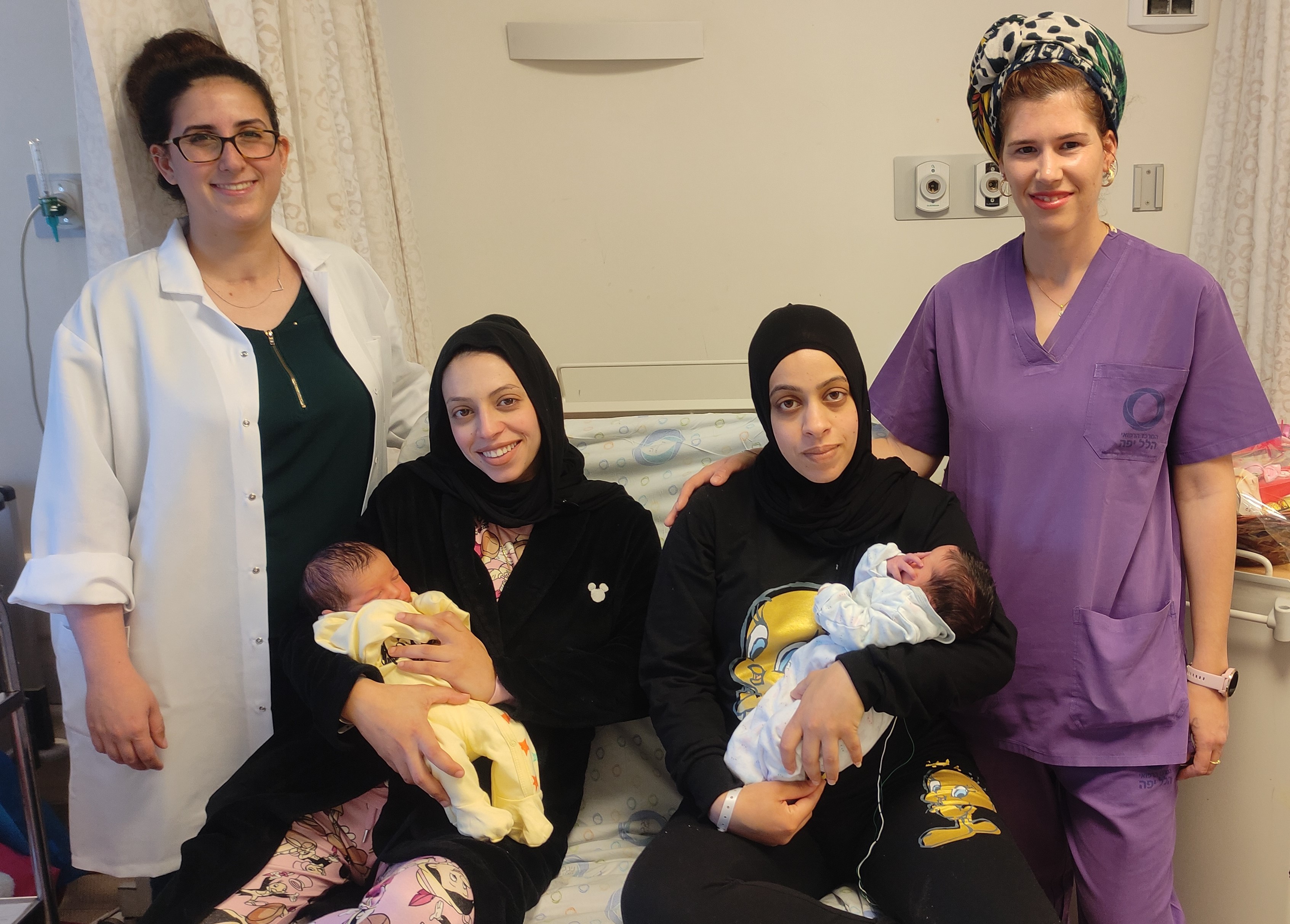 From right to left: Midwife Henia Guetta, the Masarwa sisters with their babies and Dr. Danit Tarashandegan at Hillel Yaffe's Maternity Department