HYMC's Neonatal Intensive Care Unit (NICU) has implemented a special program called Attentive Feeding, in which a special multidisciplinary team, including a nurse, dietitian and physical therapist instruct and guide parents in the process of transitioning from tube feeding to bottle feeding or breastfeeding. The objective: to create a positive experience, while being attentive to the small signs from the preterm babies - when and how much they are able to eat.
According to studies published in recent years, parents and professionals who care for preemies after they are discharged from the NICU have reported numerous eating problems with preemies that are not always related to medical issues. Additionally, it has been shown that the feeding period in the NICU has a long-term effect on eating throughout life. The preterm babies are at a high risk of experiencing sensory difficulties, problems chewing, prolonged meal times, refusal to eat, difficulty in the transition from bottle feeding to eating ground food, choking, behavioral issues during feeding, parental need to control the baby's eating and more.
"Preterm babies born before week 34 do not have mature reflexes. This is seen in the lack of coordination in the swallowing-sucking-breathing mechanism, which is essential for oral feeding. They frequently demonstrate that they are able to eat, but forget to stop and breathe," explains NICU Head Nurse Yasmin Peretz.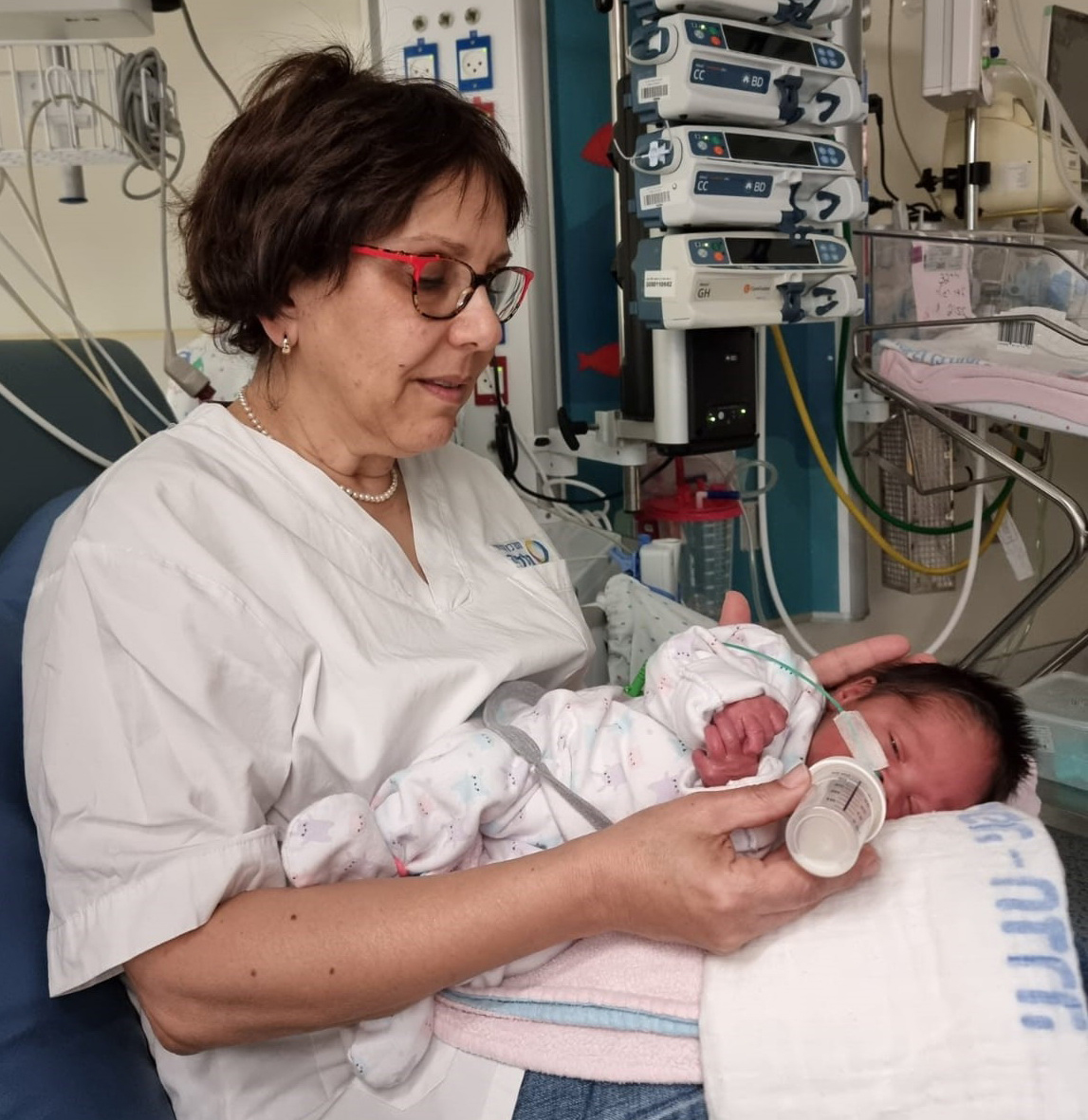 Attentive feeding at the Hillel Yaffe Medical Center NICU
"As soon as the preemie has a negative experience during feeding, for example, they don't stop to breathe, they may interpret this as a negative experience and pain, and develop an eating disorder later in life. Therefore, it's important, even from the initial experience, to be attentive to the baby's needs, to provide them with the appropriate amount of food and, by doing so, to create a positive eating experience," said NICU nurse Naomi Shirzili and dietitian Noga Pilosof, from Hillel Yaffe Medical Center, who are the project leaders.
"The main concept is to prevent the premature baby from experiencing pain. The NICU staff helps parents read their babies and bolster their confidence when caring for them. When they reach 34 weeks, their ability and maturity to begin learning how to eat orally is examined. It is important for us to sit down with the parents and explain the significance of attentive feeding and even practice with them so that when they are discharged they will already know how to identify the signs for when and how much to feed," said Shirzili and Pilosof.
In short, Dr. Amit Hochberg, Director of the Newborn and Neonatal Care Department at Hillel Yaffe, stated, "We strive to provide holistic care, which includes life-saving medical treatment alongside care that supports the development of preterm babies and their families, care that will be expressed right at the start of life and will carry over into the newborns' future. Eating is an issue for preemies and parents throughout their lives. Attention and proper education on good feeding, based on quality communication between the caregiver and the newborn, reduce the odds for development of eating issues later in life and provide preterm babies with healthier and better quality of life.