Nursing is recognized as a difficult and challenging profession, particularly for nursing staff who work in the hospital's most complex departments - the internal medicine departments. When talking about the internal medicine departments, the discussion frequently turns to crowding, the load and the "old lady in the hallway," because, most days of the year, occupancy in these departments exceeds 100%, and most of the patients are elderly with serious morbidity and complex medical conditions. Here are four inspirational stories of individuals who have chosen to work in internal medicine, out of a sense of mission and responsibility, despite the daily challenges and difficulties.
I'm still excited, even after 30 years
Avi Yatmania, 63, from Netanya, head of the staff in Internal Medicine B, immigrated to Israel from Ethiopia in 1985. He was a nurse in Sudan and joined the refugee camp run by the Red Cross. At the age of 24, he came to Israel on his own, began learning Hebrew in ulpan and then completed his nursing studies at Ariel University, with a specialization in geriatrics. After graduating, he began working as a registered nurse in Internal Medicine B at Hillel Yaffe Medical Center and continues to work there today.
"Anyone working in an internal medicine department needs to be patient, to be attentive to patients and put the patient at the center. That's what has guided me all along. You have to be giving and very dedicated to the patients. Not everyone can last so many years in an internal medicine department. You're exposed to many complex cases, and it's not always easy to cope with them," said Avi.
In his years of work at Hillel Yaffe, Avi was among the founders of Tene Briut on behalf of the Ethiopian community. Additionally, the hospital sent him on a mission to Ethiopia to treat patients, and he was part of a delegation to the United States to promote community health. "My work is very satisfying. Every time someone thanks me, it fills me with an incredible sense of satisfaction. Even after 30 years in the profession, I get excited when a patient thanks me.
The pressure and action course through my veins
Nur Zayid Alkhayani, 42, from 'Ara, knew even when he was young that he wanted to study nursing. He studied at the Hebrew University of Jerusalem, and as a student began working in an internal medicine department at Hadassah Mt. Scopus. Even after completing his studies, Nur continued to work in the same department, but as a registered nurse. In 2008, he began working at Hillel Yaffe Medical Center.
"When I came for my job interview, they told me I could choose between an orthopedic or internal medicine department. Without thinking twice, I asked to be assigned to an internal medicine department. It's hard for me to express the satisfaction I get from my job in words, from the opportunity to give of myself and help people who truly need it. In most cases, we see an elderly, complex population, that suffers from serious morbidity, and not many staff members are able to handle this over time. You have to be strong mentally and be fully dedicated," said Nur.
While working as a nurse, he continued to study and become professional in the fields of clinical instruction, diabetes and intensive care, and he is currently completing his master's degree in health systems management, "In recent years, the load in the internal medicine departments has been growing. For us, every day brings its own challenges, but for someone who has worked in internal medicine departments his entire life, the pressure and action already course through my veins. With all the difficulty it entails, I go home with a sense of satisfaction that I wouldn't have from any other profession."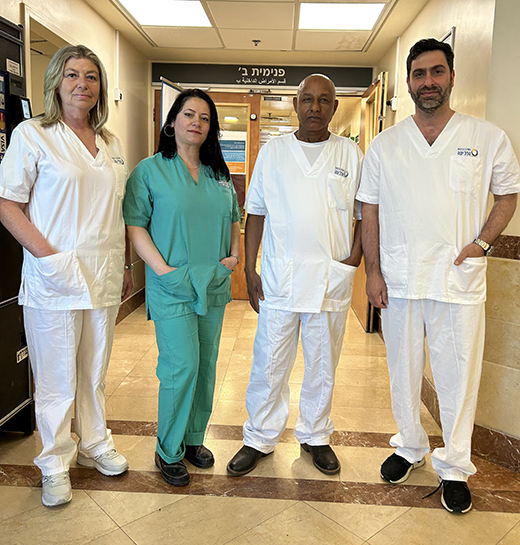 From right to left: Nur Zayid Alkhayani, Avi Yatmania, Sofiya Shaulov, Clara Yaacobovitz
Being there for the families as well
Sofiya Shaulov, 45 from Hadera, was previously a bookkeeper with a large law firm. After a few years, she decided to change professions and went to study nursing. She completed her BA at Tel Aviv University and specialized in oncology and geriatric nursing. In 2007, she began working in the Internal Medicine A Department at Hillel Yaffe Medical Center and, later, when Internal Medicine D opened, she was assigned to that department. Eventually, she was appointed as Deputy Head Nurse of the department.
"Ever since I started studying nursing, I knew that I wanted to work in an internal medicine department. As someone who spent a good amount of time in various internal medicine departments when I supported a relative, I know first-hand the needs patients' families have to receive information and assistance from the attending staff. I understood how important it is to be there, not only for the patients, but for the families as well. A large number of patients are hospitalized for an extended period, and you naturally form a relationship with the families. An internal medicine department is a lifestyle. Even when you finish your shift and go home, you continue to think about the patients and what's happening in the department. For some patients, we are their family. We listen to them, embrace them, and help them with anything they need."
"I feel young at heart"
Clara Yaacobovitz, 62 from Hadera, is one of the longest serving nurses at the hospital. When she was young, she studied to be a practical nurse at Hadassah Neurim, and in her military service, she served as a medic. After completing her military service in 1982, she began working in Internal Medicine B. From the time she began working, she knew she wanted to join internal medicine departments.
"When I came to the hospital, they suggested that I be assigned to obstetrics or pediatrics, but I insisted on working in one of the internal medicine departments. I fell in love with the field right away. The action, pressure, hard work - there's never a dull moment. When patients with very serious health conditions come to the department, leave the hospital smiling and are grateful for the care, there is no greater sense of satisfaction."
For Clara, the work in an internal medicine department also has advantages: "As someone who has worked as a nurse in an internal medicine department for 40 years, I feel young at heart. My mind is always working and stays sharp. After all these years, I've learned to adapt to the pressure, load, physical difficulty. The only thing I haven't adapted to is the lack of personnel and desperate need for more inpatient rooms. Seeing a patient in the hallway with no privacy at all is just not acceptable in 2023. We must allocate personnel to the internal medicine departments and increase the budgets. That's something I wish for and hope will come true at some point."