This week, which was celebrated under the banner, "striving for excellence," was opened with a special evening at Elysee Gardens in Binyamina, which included a lavish dinner, performance by stand-up comedian Ben Ben Baruch, a video tribute to the hospital's nurses, greetings and dancing. National Nursing Committee Chairperson Ms. Ilana Cohen, Nursing Director of the Government Hospital Division Ms. Inbal Yarkoni, Hadera Mayor Mr. Nir Ben Haim, Hadera District Histadrut members and management of Hillel Yaffe Medical Center participated and spoke at the event.
In their comments, Medical Center Director Dr. Mickey Dudkiewicz, Hillel Yaffe Nursing Director Ms. Dina Fainblat, and Nursing Committee Chairperson Fanny Biton, all referred to the complex, challenging, professional and dedicated work performed by the nursing staff all year long.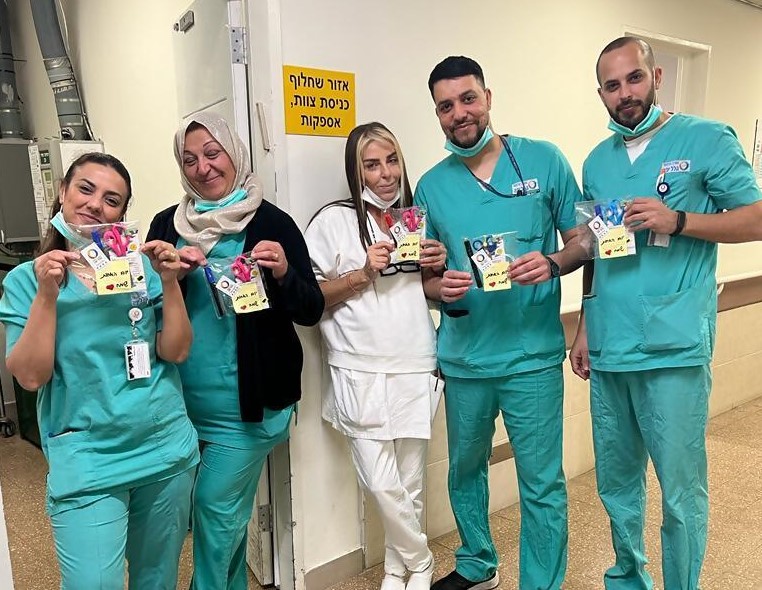 A personal gift for all members of the Hillel Yaffe nursing staff

Later in the week, the Hillel Yaffe nursing staff enjoyed a variety of treats and surprises, including pizzas, sliced fruit platters and a personal gift. All this was possible thanks to the hospital's management, nursing administration, Nursing Committee and donors, who opened their hearts and pockets in order to express their gratitude.
And another show of support, initiated by Hillel Yaffe's Nursing School Director, Dr. Merav Ben Natan, were billboards praising the nursing staff and nursing students that were posted around Hadera, Pardes Hanna-Karkur, Harish, Baqa al-Gharbiyye and more, showed appreciation from those municipalities and councils, an especially moving and nice tribute to their work.