Last week a delegation from the Hillel Yaffe Medical Center returned following an official visit to its twin hospital in De Yang of the Szechwan district in China – one of the four largest districts in China, where the great earthquake occurred in 2008.
This extraordinary relationship was created some years ago, when Dr. Morris Topaz, head of Plastic Surgery in HYMC, who was also part of the recent delegation, came to the De Yang hospital to assist treating the 2008 earthquake victims, and who consequently received a mark of high esteem from the Chinese Prime Minister.
Some time after the earthquake Dr. Topaz turned to Prof. Meir Oren, Director of HYMC and suggested continuing the cooperation with the De Yang hospital, while at the same time their director expressed his willingness to do so as well. They seized the momentum and a relationship sprung up between the two hospitals, and a group of Chinese doctors came to HYMC for fellowships in 2009-2010. At this point, both hospitals decided to raise the level of cooperation even higher, and, with the encouragement of the Israeli Ministry of Health, sign a twin-hospital contract.
So, an HYMC official delegation, together with the cooperation of the Israeli Ministry of Foreign Affairs, set off for the formal ceremony in De Yang, which was attended by Chinese government officials, and the Israeli delegate, Mr. Amos Nadai.
Besides Prof. Oren and Dr. Topaz, HYMC's delegation consisted of Deputy Director Dr. Mickey Dudkevich, and its Spokeswoman, Ms. Dafna Nevo. During the visit, the Israeli delegation was allowed entrance to the earthquake site, which is generally closed to tourists and the Chinese public, where they were able to observe the vast renewal projects taking place, done by the Chinese during the past years.
Prof. Meir Oren stated, "The cooperation between HYMC, the Chinese hospital and its director, Dr. Zhao Lao-Ping, is more than understandable, considering HYMC's emergency trauma experience and the fact that we have treated earthquake victims in the past. I am aware of the great opportunity both hospitals have and the excellent scope of mutual expertise which we hold from these events. Dr. Topaz is our first swallow, after which, I trust, our physicians will be able to travel to your hospital to share their extensive professional know-how, and also receive additional Chinese physicians at our hospital".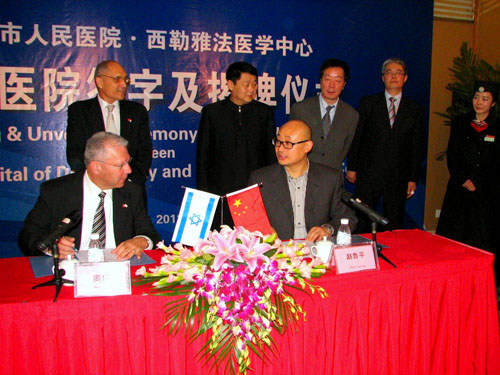 Treaty signing ceremony with Dr. Zhao Lao-Ping and Prof. Oren. In the background – head Chinese officials and Israeli Ambassador to China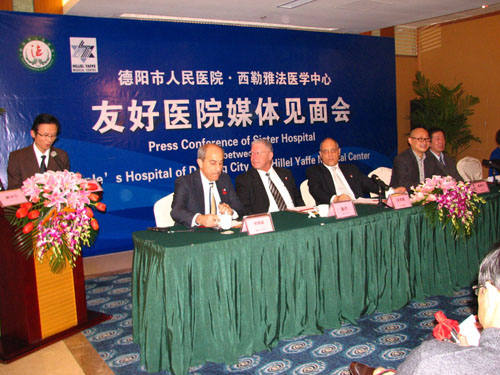 Press conference, prior to signing "Twin Hospital Treaty". Left to right: Chinese gov't official, Dr. Zhao Lao-Ping, director of De Yang Hospital, Mr. Amos Nadai, Israeli Ambassador to China, Prof. Meir Oren, Dr. Topaz. On the podium: Dr. Zhang, deputy director of De Yang Hospital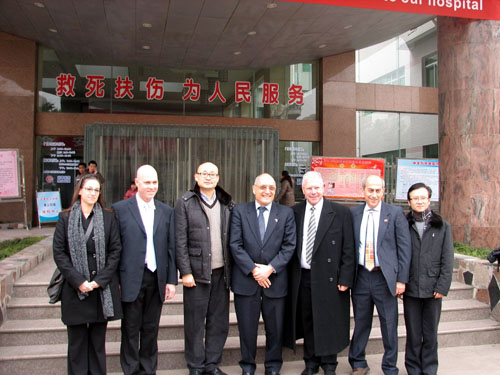 The Israeli delegation, the De Yang Hospital management and Israel's Ambassador to China on the steps of the De Yang Hospital