Last week the Medical Center dedicated another new department - Internal Medicine D - this being in the context of the additional allocation of beds granted to the Medical Center upon the opening of its new hospital building several months ago. The new department opened with 15 beds – and will eventually contain 38 beds. Two of those beds will be allocated for treatment of hematology patients and eventually, 4 beds will be allocated to cancer patients.
The department is headed by Dr. Nina Avashovitz, who until now was a senior physician in Internal Medicine C, and the hospital's rheumatology consultant. She is joined by Dr. Younis Said, a specialist in internal medicine and a rheumatologist by profession. He formerly worked as a senior physician in both the Carmel and Bnei Zion hospitals in Haifa. They are supported by Pnina Biton, head nurse, and Iyad Darousheh, her deputy - both of whom are "graduates" of the hospital's Internal Department C.
The opening of an additional department will help reduce the pressure on the day to day activities of the other internal departments. Those department's occupancy sometimes reached 160%, especially (but not only) during the winter.
Currently, the department is recruiting additional personnel in a range of fields - medical (including specialists in internal medicine), nursing care, etc.
Dr. Nina Avashovitz, the department's director, states that she is aware of the challenges facing the department, particularly in light of the currently distressed state of internal medicine. However, she is hopeful that a major investment in the hospital's infrastructure and support for extensive academic work within the department will assist in attracting highly qualified doctors and a professionally proficient nursing team. Finally, active efforts will be made to strive for excellence throughout – in medicine, research and in nursing care.
The Medical Center is hopeful that the new department will help mitigate the pressure on its staff in the other departments.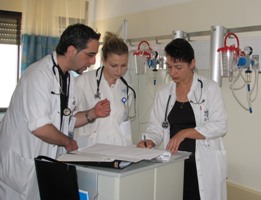 Dr. Avashovitz and Staff during morning patient visit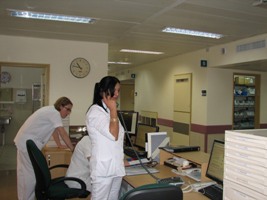 Nurses situation in the new department