An Excellence Award was conferred last week on the Hillel Yaffe Medical Center School of Nursing – an honorable mention in the field of education in the National Quality and Excellence Award competition, in honor of the late Yitzhak Rabin, held in partnership with the Prime Minister's Office, the Standards Institution of Israel, the Civil Service Commission and the Coordinating Office of the Economic Organizations and the Israel Society for Quality.
Following a long and rigorous process during which the parameters were examined at several levels, the award was given at a state ceremony last week in the Knesset. Management representatives from the Hillel Yaffe School of Nursing and senior members of the Medical Center arrived to officially receive the award.
At the ceremony, Dr. Merav Ben Natan, Director of the Nursing School, and Esther Cohen, Director of Nursing Services at Hillel Yaffe were called upon to accept the award. Attending the ceremony were the Minister of Finance Dr. Yuval Steinitz, Minister of Industry, Trade and Labor Mr. Shalom Simhon, Minister of Improvement of Government Services Mr. Michael Eitan, the Civil Service Commissioner and other distinguished guests.
Dr. Ben Natan said that among its considerations in awarding the prize, the Committee ruled that "the achievements of the school and its important contribution in the field of education formed the basis for the decision, as did the activities of its staff in improving work processes and methods, providing a foundation for commitment to quality and excellence, and continuous improvement.
"As far as we are concerned," stressed Dr. Ben Natan, "this is a concise summary of the nature of our work – the provision of a comprehensive educational and academic foundation that will produce nursing personnel seeking excellence as an integral part of their work."
The management of the Medical Center congratulated the staff and management of the Nursing School on this unique and well-regarded achievement, and was pleased to note the school's contribution to quality and excellence at the hospital.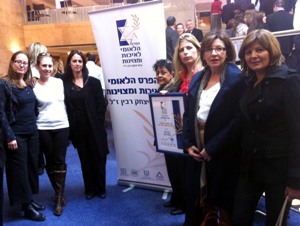 School of Nursing team after receiving the award (with Dr. Ben Natan holding the Excellence Award).
Photo: Galit Fuks