Tuval Shafir, the star of the hit series, Galis, proved last Thursday that not only is he a hero on the TV screen, but that he also has a heart of gold. It happened when he immediately agreed to the request made by the staff of Hillel Yaffe Medical Center to visit the Pediatrics Department. Why? To cheer up 12-year-old Adi Bracha of Hadera, a hard core Tuval fan, who despite having bought a ticket couldn't make it to the Gali's performance due to repeated hospital stays and a complex physical condition.
"Adi has been hospitalized for some time," said her mother and grandmother. "She was so depressed that the doctors caring for her, Clinical Assistant Professor Yael Kopelman and Dr. Baruch Ovadia of the Gastroenterology Institute, asked us what could make her smile again." The family's response was unanimous: meeting Tuval Shafir. "She had a ticket to the Galis performance," said her grandmother, "but she was in the hospital and couldn't go."
The hospital rose to the challenge and contacted Tuval, asking him to come lift Adi's spirits. "Tuval agreed immediately," they said, "And proved that he is not only a hero on the series and a gifted actor, but also a good guy with a heart of gold in real life."
And Adi's spirits? Improved incredibly, and thanks to Tuval she even ate a little and made the entire staff of the Pediatrics Department, her family and friends happy.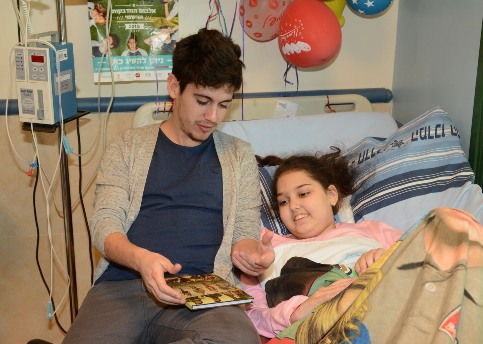 Tuval Shafir and Adi Bracha in the Hillel Yaffe Pediatrics Department. Photo: Yitzchak Barbi