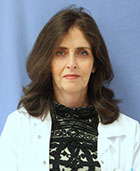 Dr. Michal Shtein
In February, Dr. Michal Shtein, a specialist in pediatrics and infectious diseases, assumed her position as Director of the Infectious Diseases Unit at Hillel Yaffe Medical Center.
Dr. Shtein is a graduate of the Hebrew University of Jerusalem's Faculty of Medicine and specialized in pediatrics at Wolfson Hospital's Division of Pediatrics from 1997-2002. After completing her residency, she served as a senior physician in the Pediatric Urgent Care Department and then went on to specialize in infectious diseases. From that time and until her appointment this month at Hillel Yaffe Medical Center, Dr. Shtein served as a senior physician and consultant on infectious diseases in the Division of Pediatrics and Wolfson Hospital. From 2007 - 2011, Dr. Shtein was the General Secretary of the Israel Society of Clinical Pediatrics (HIPAK) and currently services as the Secretary of the Israel Society for Infectious Diseases. She is also a member of the Advisory Committee on Vaccinations for the Ministry of Health.
Hillel Yaffe Medical Center's Infectious Diseases Unit is involved in several areas of activity, including providing clinical consultations to patients in the various in-patient departments, oversight of proper administration of antibiotics, prevention of cross-infection, instruction of residents and students, research and more. The unit will soon be expanded and the number of medical and nursing staff will grow - as will the amount of space used for the unit's activity.
One such space can already be seen in the field: This week, Dr. Shtein launched a clinic for infectious diseases in children. The new clinic provides services such as consultation on congenital infections, recurrent throat infections, recurring fever diseases (including PFAPA), investigation of persistent fever, advice on vaccinations - ongoing and under special circumstances, treatment of recurring abscesses and more.
The clinic is open every Monday from 9:00 a.m. - 11:00 a.m. To make an appointment at the clinic, contact the appointment center at: 04-6304252 and requires a referral from the attending pediatrician in the community and a letter of financial undertaking from the medical insurer (HMO).