This week, the delivery room staff at Hillel Yaffe Medical Center experienced something rarely seen, which according to some of the department's long-standing employees, some of whom worked at other hospitals in Israel and abroad, almost never, ever happens: a 26-year-old woman came in for her third delivery in four years, and each time gave birth to fraternal twins in spontaneous pregnancies.
"This is definitely a very rare occurrence," said Dr. Haim David, Head of the Delivery Room at Hillel Yaffe. "Even when I searched the professional literature, I didn't find documentation of statistics for birth of consecutive sets of fraternal twins by the same woman, in a standard pregnancy, without fertility treatments. We're looking at a statistic of 1 in every 5 million births. For the sake of comparison, the odds of giving birth to two sets of twins, one after the other, in a normal pregnancy, is 1 in 500,000. This is definitely an incredible statistic," he said.
And what does the mother, Afat Amash of Jasser al-Zarka, have to say about the surprising three-peat? She said that her husband's mother is a twin, but does not know of other cases in the family. In any event, as far as she and her husband, Sayeed, are concerned, there's room for everyone and the more the merrier. Along with three-year-old twin girls, four-year old twin girls and the brand new set of twins - a boy and a girl, there's no doubt that their home will be filled with joyful noise.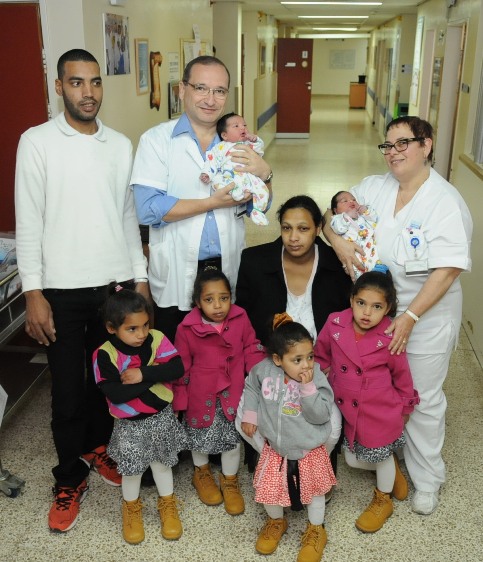 On the right: Head Nurse, Obstetrics, Orna Greenberg and Dr. Haim David holding the newborn twins. Seated is the mother, Afat Amash, and the father, Sayeed is standing on the left. Standing in the photo are the four twin girls - age three and four. Photo: Yitzchak Barbi