Last week, a special study day was held at Hillel Yaffe Medical Center in honor of Family Day and the fight against violence against women. Close to 180 staff members from the various sectors participated in the study day, which was organized by Daniella Akev, Social Welfare Coordinator and the Officer for Gender Equality and Promotion of Women at Hillel Yaffe. Participants enjoyed a late breakfast, heard greetings from the administration, a lecture on gender equality, and a highly enriching lecture by Ella Golan, titled Knowing How to Choose, in which she discussed her life as one of the wives of Goel Ratzon, as a psychological prisoner in an emotional prison and more.
Ella also shared how she was liberated from Goel Ratzon's cult, how she rejoined reality and the painful process of coming to terms with what had happened. She provided examples and made an emotional call to women about the signs of violent, emotional control by spouses, based on her personal experience.
Aside from the fascinating lecture, HYMC Deputy Director Mickey Dudkiewicz welcomed the audience that packed the hall, and very positively mentioned the strong female management team in all sectors of the hospital. Dina Fainblat, Head Nurse at HYMC, added to what he said, addressing the power women have through their day-to-day activity to shatter the glass ceiling society sometimes imposes. She further asked to thank all of the women in the hall for their efforts and important work.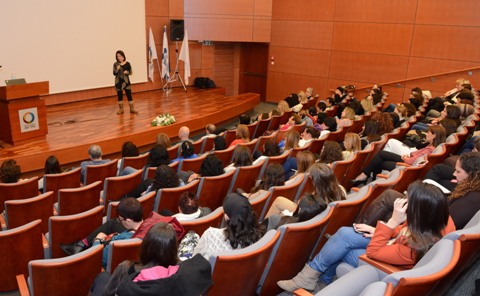 In the photo: The large audience during Ella Golan's lecture. Photo: Yitzchak Barbi