The ceremony conferring certificates of appreciation to the outstanding Hillel Yaffe Medical Center employees was held last week and was a very festive occasion. This year's winners included employees from the following departments: Orthopedics B, ENT – Otolaryngology, Head & Neck Surgery Unit, Human Resources, Laboratory Department, Newborn and Neonatal Care, Surgery A, Cafeteria and Kitchen, Gastroenterology Institute, Housekeeping, IT and the Obstetrical Ultrasound Unit.
Dr. Amnon Ben Moshe, Administrative Director, said, "The commitment each and every one of us has to excellence and the drive to succeed lead the hospital to great results, despite the fact that we work in a complex and tough environment, with many limitations. The selection of outstanding employees is our way of thanking you for caring, taking responsibility, innovating and wanting to do more."
Dr. Mickey Dudkiewicz, Director General of Hillel Yaffe, emphasized that excellence is a choice to do more - as a matter of routine and in general. He also added that the contribution of each and every employee makes it possible to take great strides forward, certainly in an organization dedicated to excellence, which operates in a complex reality that is not always simple. He further stated that when an organization invests in employees, they will be happier and the organization will benefit more from them.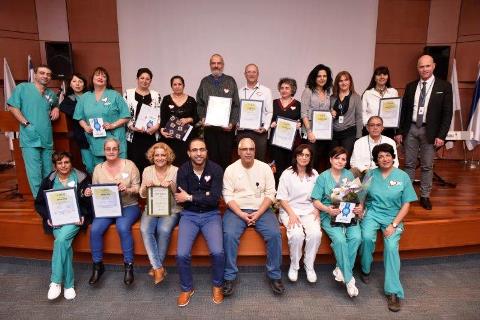 Hillel Yaffe Outstanding Employees
Winners of the Prizes of Excellence:
Prize for Personal Excellence
Dr. Gil Laufer, Director of Shoulder Service, Orthopedics B
Smadar Abargil, Team Leader, Otolaryngology, Head & Neck Surgery Unit
Shayke Bachar, Senior Cook, Cafeteria and Kitchen
Noa Dugma, Director of Quality Control B, Biochemistry Laboratory, Laboratory Division
Ilanit Markovich, Director of Tenders, Human Resources Department
Ahmed Shalvi, Team Leader, Surgery A
Hagit Shem Tov, Medical Secretary, Newborn and Neonatal Care Department
Personal Excellence - Employees of the Health Corporation:
Johnny Yuris, Head of Communications, IT Department
Dalit Kamar Shafan, Senior Medical Technologist, Obstetrical Ultrasound Unit, Obstetrics & Gynecology Department
Team Excellence
Gastroenterology Institute team - nursing staff: Alina Boniovitch, Ahuva Gondai, Miri Tal, Smadar Nafrin, Ilia Nessimov, Helena Sapoznikov, Yisraela Friedman, Bruria Shoshan.
Housekeeping team - staff: Lia Iskov, Tova Denchi, Ludmila Mordechaiev, Ludmila Manishrova.