In keeping with tradition, the Hillel Yaffe staff came together to raise a toast to the New Year. Aside from the New Year, they noted the fact that this past year had brought many changes, developments and complexities, and that it was a year that showcased quality of care and excellence, through the JCI accreditation it had been awarded and its compliance with all of the indicators set by the Ministry of Health. Right before the New Year, we stated that the hospital would be celebrating its 60th anniversary and many internal and public events are being planned for employees and communities to mark this important occasion.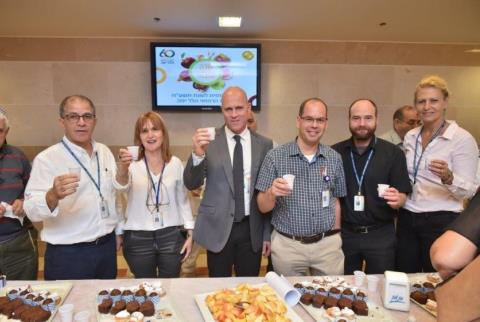 Caption: Raising a toast to the New Year (5778)
Dr. Amnon Ben Moshe, Administrative Director of Hillel Yaffe Medical Center, opened the event, reflecting on the constant need to balance innovation, knowledge and desire for change against the complexity of the health care system. "With this in mind," he emphasized, "The Hillel Yaffe staff proved this past year that there is nothing that can stop them from meeting the goals they have committed to, and awareness, motivation and concern are the driver for successful work."
Later, Dr. Mickey Dudkiewicz, Director General of Hillel Yaffe Medical Center, congratulated everyone on their work this past year, where they joined forces, and worked day and night to ensure the medical center's success. He further noted that the end results are not the only important element, but also the way they are achieved, which demonstrates the strong sense of partnership among the entire staff. He went on to say that the hospital's 60th anniversary, which will be this year, is an important milestone, which will be marked with activity designed to promote the hospital and expand its interfaces with the community.
Le'shana tova!