Last week, Hillel Yaffe hosted a special study day dedicated to one of the most highly loaded, complex and difficult issues to handle, and particularly to treat and prevent - sexual abuse of children. Close to 200 hospital staff members and experts from various fields participated. It was organized by Social Services, headed by Elina Fishensohn, and Hillel Yaffe's institutional Violence Committee (headed by Dr. Adi Klein, Director of the Pediatrics Department), in conjunction with the Haruv Institute and the Haifa District of the Ministry of Health.
"The focus of the day was on the multisystem approach to optimal care in the abnormal situation of sexual abuse," said Maram Kawer, a social worker in the Pediatrics Department, who was one of the event organizers. "Issues regarding initial medical response, the legal aspect, guidance and social care, and continued care by the relevant organizations in the community were raised."
The study day included lectures on the medical, gynecological and psychological aspects and ended with a fascinating and difficult story of a patient and practitioner who presented a dialog between the personal and professional regarding how to deal with sexual abuse.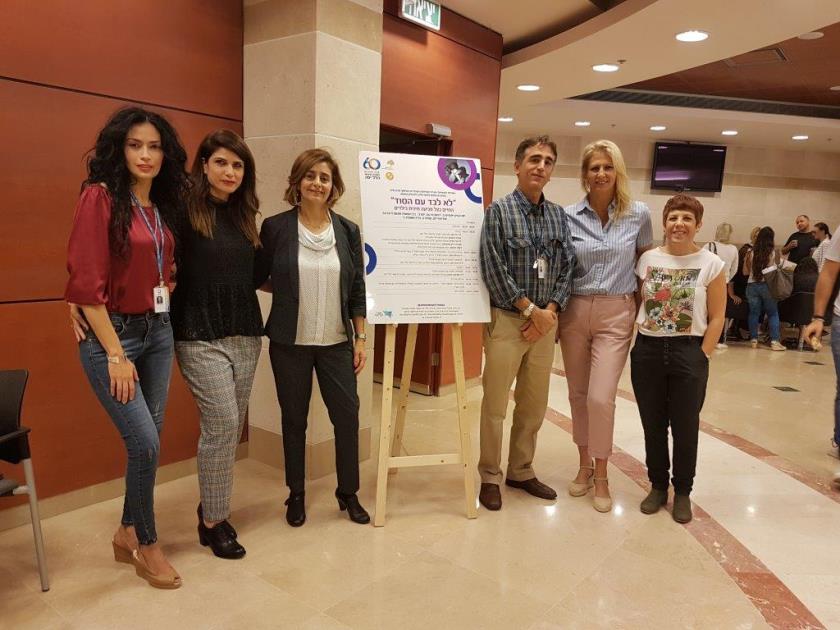 The target audience of the study day was hospital staff and other professionals from the community who meet as part of their work with victims of sexual abuse. Additionally, professionals who work with the healthcare system to provide a comprehensive response in cases of abuse also participated (police, child investigators, welfare, prosecutor's office, protection and assistance centers).
The participants were given material about the activity of the Haruv Institute on behalf of the victims of sexual abuse and a list of institutions that help in such cases, such as the Beit Lynn child protection centers.
From right to left: Ms. Anat Ofir, Project Manager at the Haruv Institute; Dr. Adi Klein, Director of the Department of Pediatrics; Dr. Binyamin Abu, Deputy Director of Hillel Yaffe Medical Center; Ms. Umia Nasrallah, District Social Worker, Ministry of Health, Haifa District, Maram Kawer, Social Worker with Social Services, Social Worker Elina Fishensohn, Director of Social Services at Hillel Yaffe Medical Center.