At the event held on Monday, December 5, 2017 at Cohav Hayam in Caesarea, chefs Erez Komarovsky, Uri (Yermias) Buri, Nof Otmana Ismail and Amos Sion of Helena (Caesarea Port) joined forces and prepared an exciting meal for the hundreds of people participating in the annual fundraising event organized by Friends of Hillel Yaffe Medical Center.
The year, the event was dedicated to raising funds to renovate and upgrade the hospital's Emergency Room, the total cost of which is NIS 6 million. To date, Friends of Hillel Yaffe has raised approximately NIS 2 million for the project. The hospital administration has promised to contribute half of the cost and, yesterday, when Minister of Finance Moshe Kahlon, who was born and raised in Hadera, came to give greetings, he moved attendees when he said, "I was born at Hillel Yaffe and so were by brothers and sisters. This hospital belongs to all of us."
The meal included baked goods and desserts by Komarovsky, a Mediterranean fish stew by Uri Buri, asado stew by Amos Sion and Middle Eastern flatbread with delicious fillings by Nof Otmana.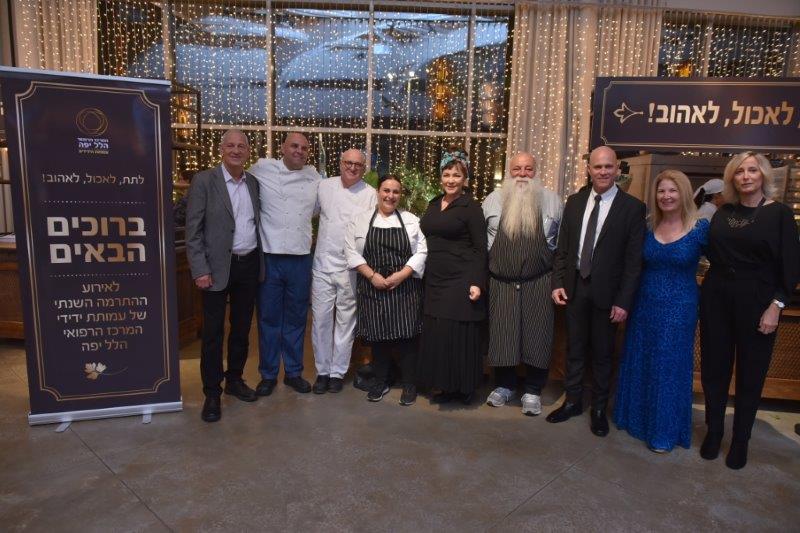 From left to right: Mr. Moshe Morag - Chairman of Friends of Hillel Yaffe, Chef Amos Sion,
Chef Erez Komarovsky, Chef Nof Otmana, Hila Alpert, Uri (Yermias) Buri,
Dr. Mickey Dudkiewicz - Director General of Hillel Yaffe Medical Center, Ms. Irit Shenkar,
Ms. Michal Manheimer - Hillel Yaffe Fundraising Manager
Among the guests were the medical center's most senior physicians, including a member of Friends of Hillel Yaffe - Rafi Carasso, mayors and heads of local councils, as well as businesspeople from Hadera, Caesarea and the surrounding area, such as Hadera Mayor Zvika Gendelman, Head of Zichron Yaakov Local Council Ziv Deshe, Judge Muhammad Masarwa, Chairman of the Israel Export Institute Ramzi Gabbay, the Mawassi family, Ami and Galia Lapidot, culinary figure Irit Shenkar and her husband Yair Margalit, retired Judge Hila Gerstel, and CEO of Prigat Efraim Rennert.
Director General of Hillel Yaffe Medical Center, Dr. Mickey Dudkiewicz, and Chairman of Friends of Hillel Yaffe, Moshe Morag, thanked Minister Kahlon and everyone who volunteered their time and skills - the chefs, the owners of Cohav Hayam in Caesarea, emcee Hila Alpert, singer Maya Rotman and the hundreds of people who bought tickets, and summed things up by saying, "It's always good to be on the side that gives."