Today, the Ministry of Health issued a report, which evaluated all of the emergency rooms (departments of emergency medicine) at Israeli hospitals according to a variety of quality of care and service criteria. Hillel Yaffe's Emergency Room scored 85.91, which put it in third place out of all hospitals in Israel in terms of score, and third among mid-sized hospitals, which handle an average of 100,000 patients annually.
Among the criteria examined were length of stay in the emergency room, time to admission of the patient and decision on continued care, time to transfer to specific department for hospitalization, if necessary, time to performance of tests such as CT, time to care of a stroke patient, number of nurses and physicians per patient, implementation of queue management system and patient satisfaction survey. More than anything else, the score received by Hillel Yaffe's Emergency Room testifies to the significant effort invested by the administration and the Emergency Medicine Department staff at this important juncture at the hospital.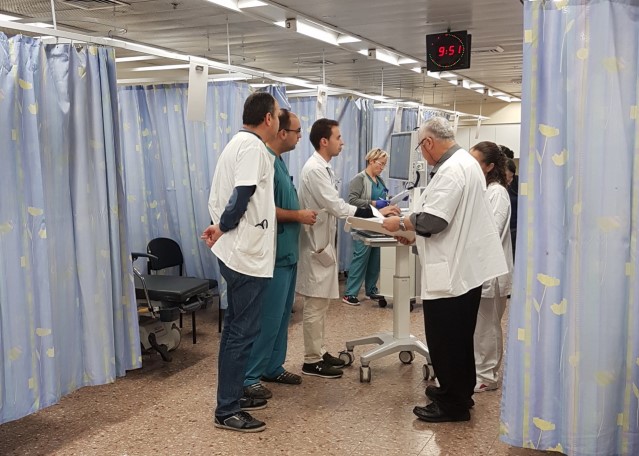 Physician rounds in the Hillel Yaffe EMD. Outstanding department
Dr. Jalal Ashkar, Director of the Emergency Medicine Department, said, "Hillel Yaffe's Emergency Room cares for an average of 350 people daily. The department staff strives to provide optimal treatment despite the very complex reality. I'm delighted that all of the improvement programs that we have implemented in recent years are paying off, and I'm proud of my staff for this achievement."
Dr. Mickey Dudkiewicz, Director General of Hillel Yaffe Medical Center, added, "The Emergency Medicine Department is the first encounter patients and their families have with the hospital. It is the melting pot of all of the caregivers and others who support the care provided at the hospital, and it reflects what is done throughout the hospital in terms of the quality of medicine, patient safety, quality of care and patient experience. I'm happy with the results, which reflect the difficult work, to say the least, and I am positive that this trend will grow stronger."
Note that the Emergency Medicine Department is about to be upgraded and renovated at a cost of NIS 6 million. This is being done as an investment in one of the hospital's most key sites, and for the benefit of the population it serves. Friends of Hillel Yaffe is also on board to support this important issue.