As part of Good Deeds Day this week, Friends of Hillel Yaffe Medical Center got together for activities throughout the hospital that focused entirely on giving – to the patients and the practitioners alike.
"The idea for this project, other than the date which was Good Deeds Day, was to establish a 'gift room' in the Department of Pediatrics so that every hospitalized child will receive all year round," said Mr. Moshe Morag, Chairman of the Friends Association. "We knew that Good Deeds Day was coming up, so we decided to increase the volume of our planned activities to include other departments in addition to the Department of Pediatrics. The Association members immediately agreed to join in."
The project, originally called Gift Mountain by the Association because of their dream of having a mountain of gifts for children, became a large-scale project in which an enormous number of gifts were collected from the entire community. The hospital allocated a special location for this room, which will no doubt become the hospitalized children's most favorite place and will hopefully help ease their recovery. Donations were received from Lev Hadera Mall, local businesses such as Flash, Ahmed Zohadi Market, Hashim Asli, Glil-On; companies such as Diplomat, Amal Nursing Care, Karnital and Microsoft employees; and from teens and children from local schools and high schools.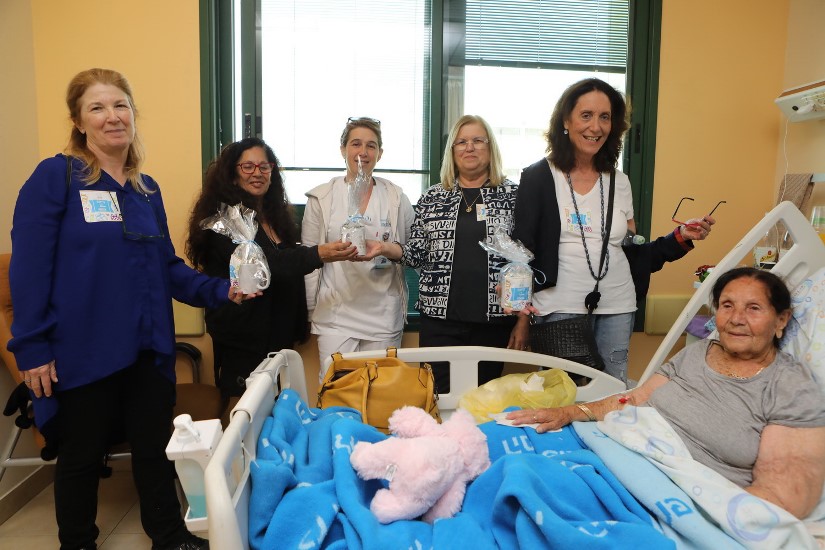 Members of Friends of Hillel Yaffe, Ita Tamari and Irit Shenkar, with patient Sima Pima,
her family, and Vlada Dubinchik, head nurse of Internal Medicine A.
An integral part of the project is, of course, the added value of giving and volunteering. "We actually needed a special team to collect the items and coordinate everyone involved," said Varda Shalev from the Friends Association and one of the main forces behind the project. "Every single person we contacted agreed to contribute. As a matter of fact, we received many requests from people who wanted to contribute, either by becoming involved in the project or by donating presents for Gift Mountain."
The project itself was run out of several centers: the Department of Pediatrics, where all of the hospitalized children received gifts and enjoyed different types of activities, and in other departments where projects of this kind are less commonplace, like the Internal Medicine Departments, Orthopedics, and the High-Risk Pregnancy Unit. In addition, gifts were handed out to staff members in the Internal Medicine Departments and the High-Risk Pregnancy Unit.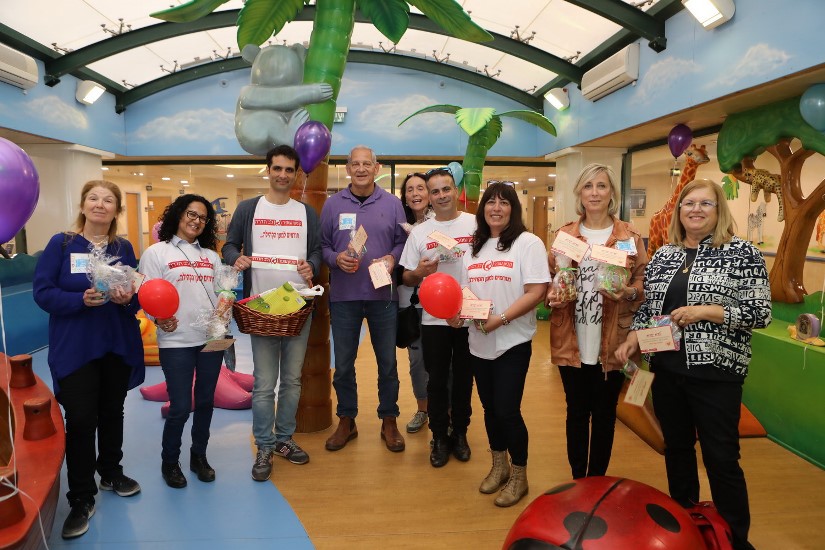 Mr. Moshe Morag, Chairman of the Friends Association, and other members, with
employees from Hadera Mall who came to donate gifts for hospitalized children
This is the first year that Friends of Hillel Yaffe Medical Center has taken part in this project. The association hopes to organize activities in different hospital departments each year. The patients and practitioners responded warmly to this initiative.
The patients and staff members were very moved by the gifts and warm gestures. Patients who expressed their appreciation include Ms. Simi Pima, from Tzrufa who was hospitalized in Internal Medicine A; Ms. Olga Ogayev of Or Akiva, who was hospitalized in the High-Risk Pregnancy Unit; and Chen and Shiran, parents of Noam Azran from Hadera.