Ten experts in various fields and one unit were recognized for their excellence in teaching students from the Technion's Faculty of Medicine in Haifa. The awards were conferred by administration of the Faculty at a festive ceremony. The management of Hillel Yaffe Medical Center attended the event, as did colleagues and the families of those being recognized.
The ten experts were from the departments of Orthopedics, Gynecology and Obstetrics, Cardiology and ENT. The ENT - Otolaryngology Unit also received a certificate of appreciation and a monetary prize for being the most outstanding teaching unit.
In his remarks, Dr. Dudkiewicz stated that research and teaching have tremendous added value and are critical for a hospital that views itself as being advanced and having a vision for the future, because teaching is a mission - both in terms of the knowledge - theoretical and clinical – that is imparted, and educating students to be people and physicians with the right and comprehensive attitude towards patients.
Prof. Marom added that the Faculty views the process of training physicians as highly important, so that they will know how to provide outstanding service, and that it is proud of its teachers and achievements, which form the core of the Faculty itself, which is considered one of the finest in Israel.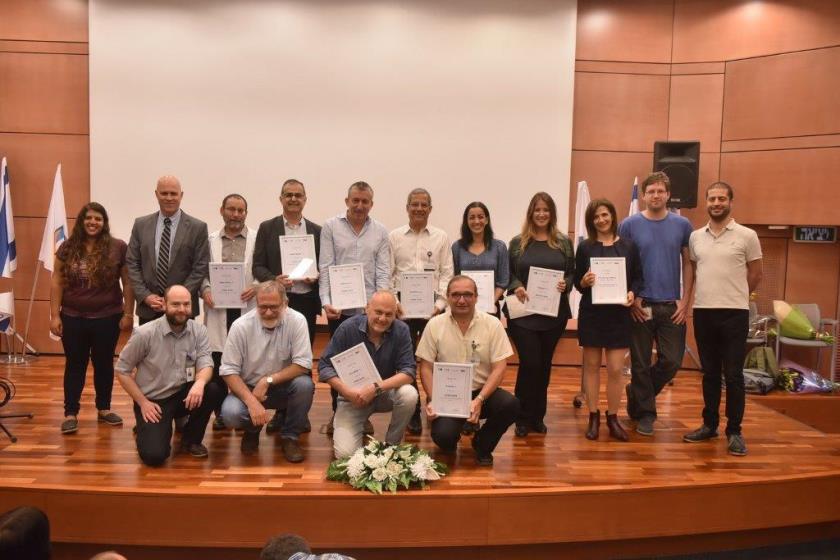 Hillel Yaffe Medical Center's outstanding teachers together with the Dean of the
Faculty of Medicine and hospital administration
Two other speakers were Ms. Yael Avraham, who wanted to thank the exceptional experts for the patience they need in the process of imparting knowledge, which is not something that can in any way be taken for granted, and Prof. Simcha Maisel, Director of the Cardiac Intensive Care Unit, who received a certificate of honor and spoke in the name of everyone recognized as outstanding at Hillel Yaffe.
At the end of the ceremony and following the traditional group photo, the Dean and his staff toured the Department of Gynecology and Obstetrics together with the hospital administration. Also on the tour were senior representatives of the department, four of whom, including the director, Prof. Motti Hallak were recognized for their outstanding contributions in 2016-2017.