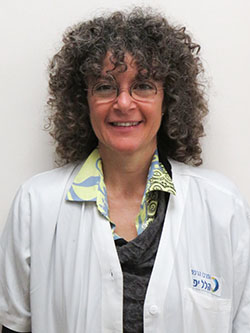 Dr. Orly Eshach-Adiv
Hillel Yaffe Medical Center's Gastroenterology Institute and Department of Pediatrics was strengthened significantly by the new appointment - a new service director for pediatric gastroenterology, Dr. Orly Eshach-Adiv.
Dr. Eshach-Adiv is a graduate of the Technion's Faculty of Medicine in Haifa, a specialist in pediatrics, with a subspecialization in pediatric gastroenterology and nutrition, which she gained in the combined program at The Hospital for Sick Children in Boston and Massachusetts General Hospital, which are affiliated with Harvard University, USA.
Dr. Eshach-Adiv served as Deputy Director of the Department of Pediatrics at Rambam Children's Hospital in Haifa and as a senior physician at the Institute of Pediatric and Adolescent Digestive Diseases and Nutrition. In her work she participated in numerous studies related to pediatric metabolism and nutrition, as well as in a breakthrough study regarding protein-losing enteropathy.
Dr. Eshach-Adiv will be the director of the Pediatric Gastroenterology and Nutrition Service as part of the Gastroenterology Institute at Hillel Yaffe. Among the services that will be provided: consultation, diagnosis and treatment of digestive track issues, liver diseases and nutritional problems in newborns, children and adolescents, services for diseases such as celiac disease, inflammatory bowel diseases, including Crohn's, colitis, failure to thrive and absorption issues in babies and toddlers (FTT), recurrent stomachaches, diarrhea, acute/chronic constipation and endoscopic and other tests related to the digestive track.
"As part of the service, I hope to provide an optimal and comprehensive response to children," said Dr. Eshach-Adiv. "Gastrointestinal diseases in children have physical implications that can impact growth, absorption of nutrition and even an indication of another disease that must be treated. It is, therefore, important that the service provide treatment that takes various factors into account, including the child's nutrition, physical activity, and even attention to psychological issues. For me, personally, it is important to develop the service to respond to these issues optimally for children and for their families."
Clinical Asst. Prof. Yael Kopelman, Director of the Gastroenterology Institute, and Dr. Adi Klein, Director of the Department of Pediatrics, welcome the appointment of Dr. Eshach-Adiv as Director of the Pediatric Gastroenterology Service in light of her extensive experience with diseases of the digestive track and liver in children and in light of the increasing demand for this service.
For additional Information and to schedule an appointment for the Pediatric Gastroenterology and Nutrition Clinic, contact the hospital's Appointment Call Center at 04-6304252.
When coming to the clinic, please bring a referral from your pediatrician, the referral form from your medical insurer (Form 17) and the results of the relevant blood tests.