The ENT – Otolaryngology, Head & Neck Surgery Unit at Hillel Yaffe Medical Center is the first in Israel to use to use an innovative device to treat patients who suffer from facialis (Bell's palsy). It is a Neuromuscular Electrical Stimulation (NEMS) device, produced by electrodes attached to the treated area, which stimulate the nervous system and create muscle cramps to improve the function of the neuromuscular unit in the affected area. The device has been used successfully for several years in Europe and the US, where it has been approved by the FDA. Hillel Yaffe is the first medical center in Israel to use the device. The treatment itself is performed by an otorhinolaryngologist and a speech therapist. The unit already has gained experience providing treatment with the device, and patients have been very pleased.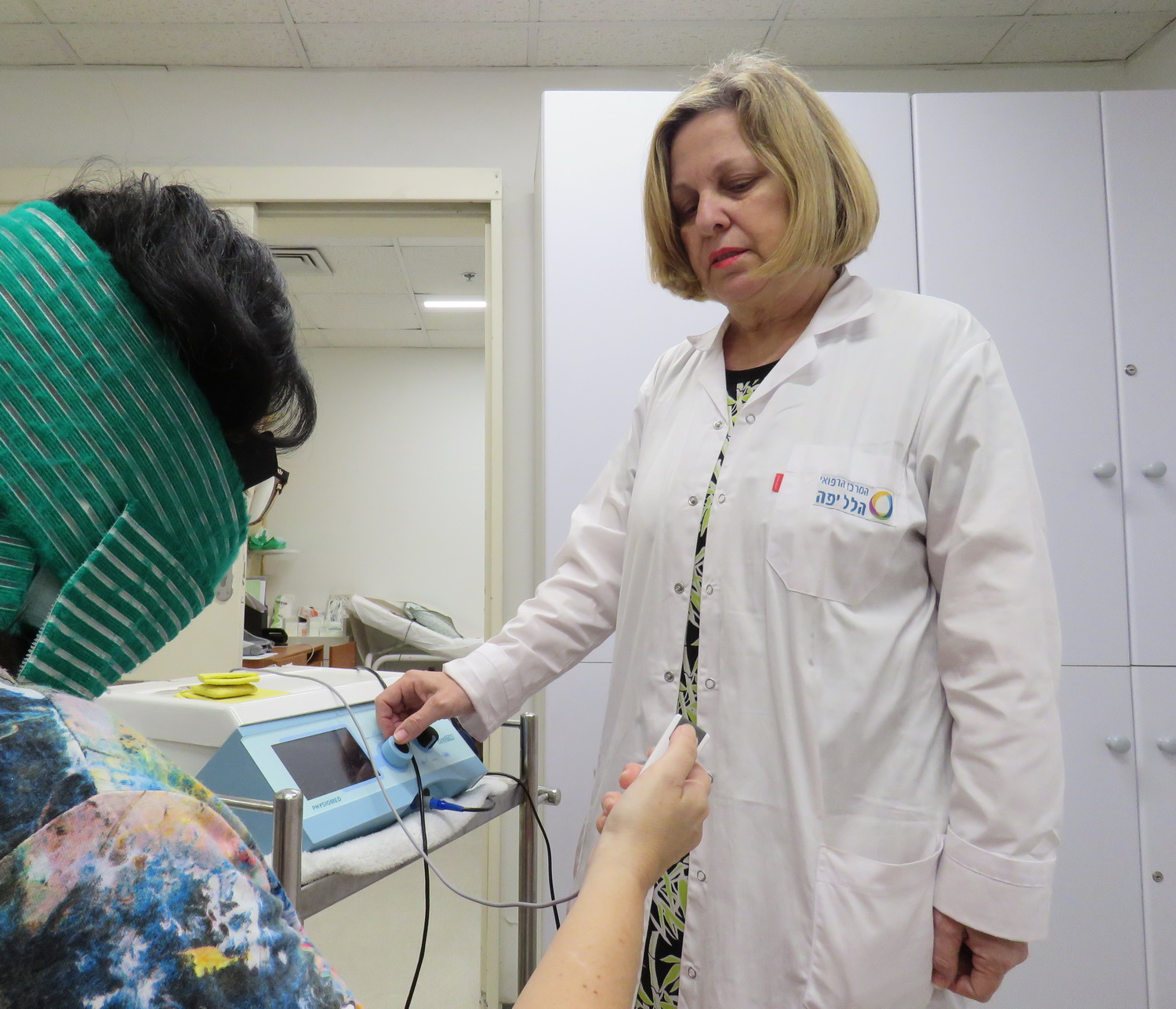 What is Bell's palsy?
Facialis (Bell's palsy) is a nerve disorder expressed as weakness or paralysis of facial muscles. This condition, which happens suddenly, makes half the face appear to droop or harden and leads to asymmetry of the face. It may occur in 4% of the population, and the cause is not always clear. In most cases, the palsy passes within several weeks, but in some cases the asymmetry may be permanent, with treatment relying on steroids and rehabilitative physical therapy. The innovative system now being used is an alternative when standard treatment does not work and, as previously mentioned, there have been numerous reported cases of success.
What is vocal cord paralysis?
It is a condition in which there is a total loss of nerve delivery to the vocal cords, leading them to become paralyzed or have limited motion. This causes voice disorders, swallowing disorders and prolonged hoarseness. The initial conservative treatment is provided by a speech therapist and, if necessary, surgery may be performed. Treatment with electrostimulation is another alternative that may be tried before surgery.
Diagnosis, treatment and receiving treatment
As stated above, this is adjuvant therapy similar to a TENS unit - electrical stimulation that encourages neuromuscular activity, and it is offered when there is no improvement after standard treatment, but is also appropriate for patients with facial weakness or hoarseness and continues to suffer from residual muscle function. Treatment may continue to help for a lengthy period following the occurrence of Bell's palsy. Patients must pay for this treatment, as it is not included in the medication basket. Treatment includes initial diagnoses, followed by a series of several treatments with the device, and may differ from patient to patient. Referrals are made by the community physician.
For additional information and to schedule an appointment, call 04-6304664 or email: shirig@hymc.gov.il