The cornerstone-laying ceremony for the new and protected pediatric intensive care unit building, whose construction has just begun, was held on Thursday, July 26, 2018 in the presence of dignitaries from the Ministry of Health, local authorities and the hospital leadership. The ceremony began with remarks from Deputy Health Minister MK Yaakov Litzman: "This is indeed an important and meaningful day for the optimal treatment of these tiny patients, and I am happy to be part of it." The Deputy Minister took the opportunity to promise that he would work to approve significant budgets for equipment and the further accelerated development of the hospital, and to add more new units to reinforce the hospital's centers of excellence, a promise that received resounding applause from the audience present at the moving event.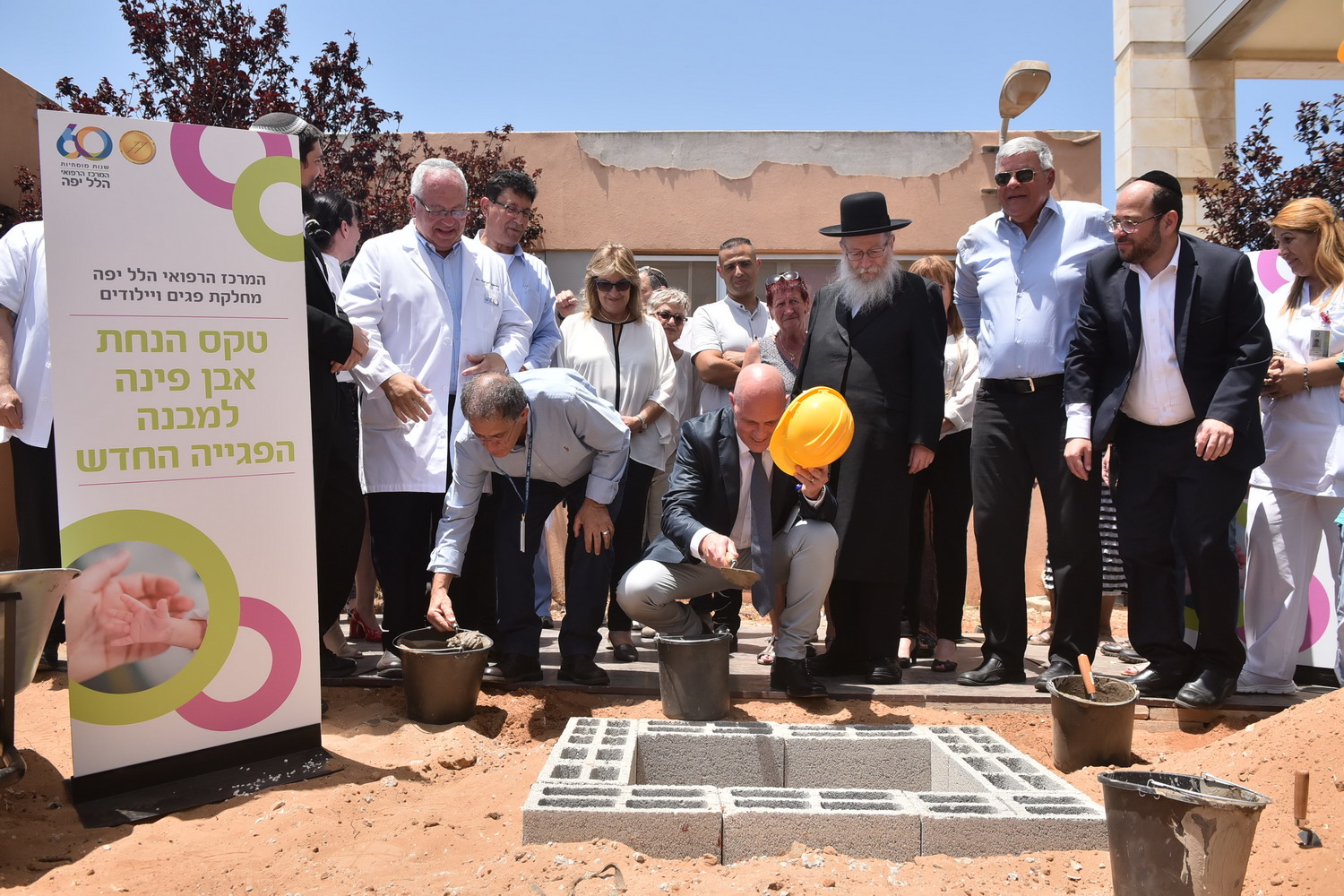 For the tiny patients. Laying the cornerstone for the pediatric intensive care unit building
These comments were reinforced by Dr. Miki Dudkevitch, director of the Hillel Yaffe Medical Center, who stated: "It's not every day we inaugurate a new building, and especially one whose sole purpose is to serve such tiny patients. We worked very hard to raise all the needed funds for a protected, comprehensive building, one that will provide a perfect professional and personal setting for our tiny patients and their parents. This is a very happy day." At the conclusion of the ceremony, the participants signed a scroll, which was then placed under the cornerstone to mark the ceremony.
The new pediatric intensive care unit building will cost approximately NIS 25 million, part of which was donated by the Legacy Heritage Foundation, with the lion's share supplemented by the Ministry of Health and the hospital itself. The new building will be completely protected and nearly three times the size of the current 350-square-meter area. The new PICU will accommodate 34 cribs designated as newborn intensive care or special care, instead of the current 19. The completion of the construction is planned for the first quarter of 2020 and hopefully even earlier.
The pediatric intensive care unit of the Hillel Yaffe Medical Center, founded in 1978, is run by Dr. Michael Feldman. It was among the first PICUs in Israel to be awarded the ISO 9001 quality certification. This year, as in previous years, the unit won an award for excellence from the Ministry of Health after it met all the quality measures set in the context of the special Stars Program for PICUs in Israel.