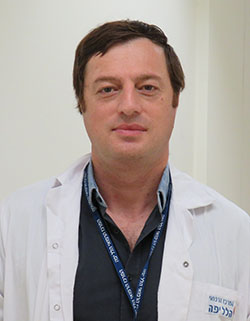 Dr. David Kakiashvili

Dr. Kakiashvili joined the staff of Hillel Yaffe Medical Center a few months ago as the director of the Department of Urology, replacing Dr. Nahum Erlich, who has retired.
Dr. Kakiashvili graduated from the State Medical University in Georgia, and completed his urology training at Rambam Hospital in Haifa, following which he completed a one-year research fellowship at Baylor College of Medicine in Houston, Texas. Subsequently, he completed a clinical fellowship in urologic oncology and minimally invasive surgery at the University of Toronto and in Texas, and is currently one of a small group of urologic surgeons in Israel trained in both urologic oncology and robotic surgery.
Dr. Kakiashvili is a member of the oncology and urology medical associations in the United States, Canada and Israel, and is internationally certified in robotic surgery. Prior to his appointment at Hillel Yaffe, he served as chief of the Robotic Urology Department, director of the Ono-Oncology Service and deputy director of the Urology Department at Rambam Hospital.
Dr. Kakiashvili has published numerous articles and won international awards in the field of cancer research. He is extremely knowledgeable in the field of complex urological malignancies. His research interests deal with uro-oncology and the evaluation of new surgical technologies. He is a guest lecturer at conferences in Israel and around the world, in the context of which he also performs live robotic surgery. In addition, he serves as an international instructor and preceptor in the field of robotic surgery.
Dr. Kakiashvili plans to expand the services currently provided in the department, especially in but not limited to the field of urologic oncology. Also in the planning – the establishment of a multidisciplinary program for robotic surgery and a surgical training center.