Every now and then, we hear about work accidents that occur around us. Some of them end with mild injuries and others, unfortunately, in serious injuries with long-term implications. In the case of 67-year-old M. from Yokneam, the work accident ended in a miracle. M. came into the Emergency Room at Hillel Yaffe Medical Center after his left ear was detached in a work accident at the factory where he worked as an engraver. In addition, the doctors diagnosed M. as having fractures in his left hand, ribs and a brain stem infarct.
M. was rushed to the operating room, where they were able to save his ear and reattach it. Dr. Yoram Wolf, Director of the Plastic Surgery Unit, who operated on M. said, "M. arrived with his left ear almost completely detached. Only 5-6 mm remained attached. During surgery, we were able to reattach the ear almost perfectly. Afterwards, M. was treated with medication and leeches were used to prevent blood clots. The fact that we were able to preserve the ear and reattach it is no less than a miracle."
M. remains hospitalized in the Surgery Department for continued care and follow up. He is expected to undergo a lengthy rehabilitation process.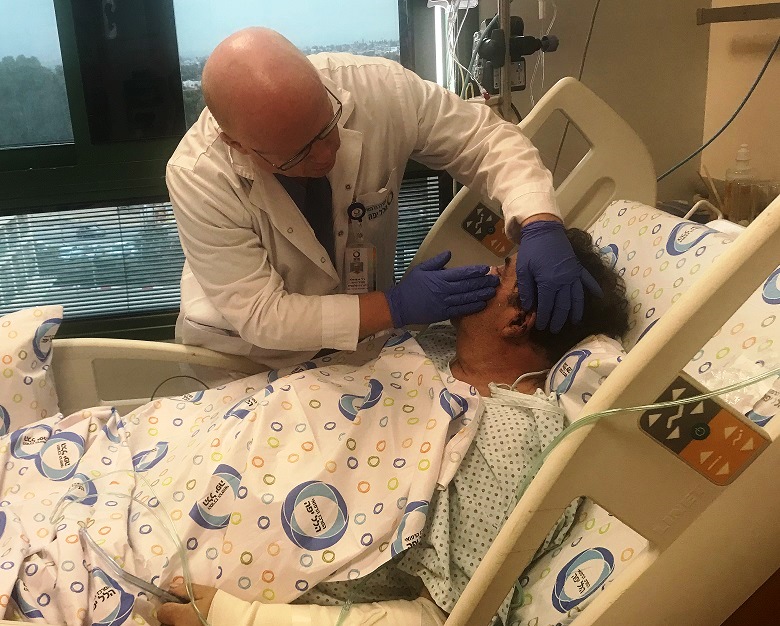 Dr. Wolf with M. following surgery