On Friday afternoon, the little girl's parents rushed her to the Emergency Room at Hillel Yaffe Medical Center. There, through a quick endoscopic procedure performed at the Gastroenterology Institute, under general anesthetic, the magnets were removed before they caused significant damage.
"This isn't the first time we have seen this game with magnets," said Dr. Orly Eshach-Adiv, Director of the Gastroenterology and Pediatric Nutrition Service at Hillel Yaffe Medical Center, who was called into the operating room urgently last Friday and performed the procedure to remove the magnets. "It's a popular children's game, but for babies and toddlers, it can be devastating, because they tend to put toys and games into their mouths, as was the case with the toddler we treated."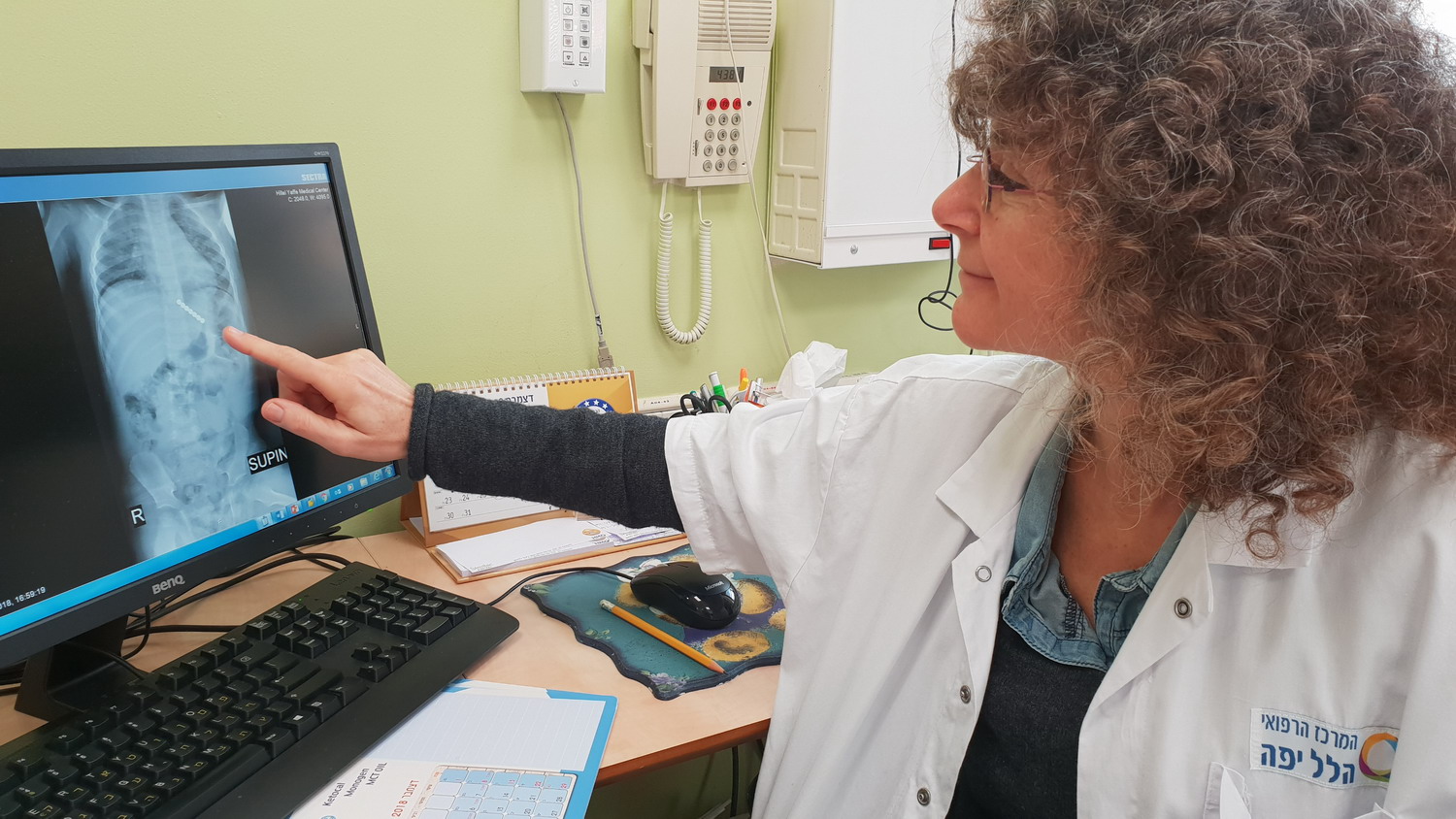 Dr. Eshach-Adiv points to the location of the magnets on the X-ray

Dr. Eshach praised the physician in the Pediatric Emergency Room, Dr. Moran Abu Moch, who was aware of the urgency of the procedure, notified Dr. Eshach and immediately called in a nurse from the Gastroenterology Institute and an anesthesiologist. The speed of the staff's response meant that the magnets were still in the stomach and were removed within one hour of the toddler's arrival to the Emergency Room.
"In this type of situation, every minute is critical, because magnets tend to attach to each other through the intestinal wall, if they continue past the stomach," said Dr. Eshach. "Aside from the risk of choking, the danger, especially in the current case, was that the toddler would develop a hole in the intestine, which would then lead to serious illness," she continued.
As noted above, the magnets were removed as a single unit, and the toddler, who was kept about 24 hours for observation, was discharged home the following day, healthy and happy.