Hillel Yaffe Medical Center closed out 2018 with over 4,600 births and opened 2019 with two especially exciting deliveries: the first, Hannah Sasson (34) and her partner Idan, residents of Pardes Hanna-Karkur, who after eight years of yearning received a gift for the New Year, a daughter weighing 2.955 kg. Sasson said that although she did not plan to have a caesarean section, she is thankful to the wonderful team that supported her throughout the complex process. She also wished her new baby daughter health and happiness.
The second, Darubi Abu Moch Sakhar and Ahmed Abu Moch, from Baqa al-Gharbiya, who also welcomed a daughter, weighing 3.155 kg, just two minutes after the start of the New Year in Israel. Abu Moch said that the person who she truly missed during her daughter's birth (the couple has a son at home) was her father, to whom she had been very close and who had recently passed away.
Happy and productive New Year!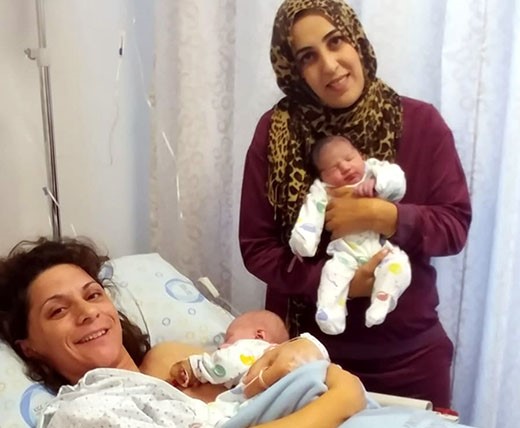 Darubi Abu Moch Sakhar and Hannah Sasson. Two girls at the start of 2019