A special technique was used to print a customized 3D metal implant to reconstruct a bone segment for the first time at Hillel Yaffe Medical Center. The patient, a woman in her 70s, was diagnosed with a malignant tumor on her scapula - a bone that is part of the shoulder girdle and of the shoulder joint itself. Wide excision of a tumor from this problematic area may lead to serious functional issues due to damage to the shoulder joint. This constraint forced the doctors to find a different solution, which at the end of the day, led to the creation of a customized model for the patient that was printed from titanium on a 3D printer.
"We were forced to find a sophisticated solution in order to remove the tumor while preserving the patient's function. The use of a customized implant enabled wide excision of the tumor, while preserving the shoulder joint. This technique is clearly a breakthrough in limb-salvaging surgical oncology," said Prof. Jacob Bickles, Director of the Orthopedic Oncology Unit at Hillel Yaffe Medical Center, who performed the complex surgery.
The patient went through surgery successfully and healed without any complications. She is currently undergoing rehabilitation and is gradually resuming function.
How does it work?
This technique uses special computer programs, which based on imaging tests (CT and MRI), enable the creation of a 3D model of the tumor and the limb on which it is located, to plan the excision and the structure of the implant for reconstruction of the tissue deficiency following excision of the tumor. The software creates a file that is sent to the printer, which prints the implant, layer upon layer, through a process that takes about 10 hours.
"The use of a customized implant enables high-precision surgery, in which the surgeon does not have to use an implant which is an off-the-shelf product, with a general structure, but can create a highly precise model, allowing the excision of the tumor according to the patient's own unique anatomical characteristics, knowing that the implant will be a perfect fit for the tissue deficiency that arises," explained Prof. Bickles. The use of 3D printers is currently the only option for creation of implants that have a complex texture and geometry, and belong to Israeli companies in Ness Ziona and Or Akiva. These technology methods are now being integrated into Hillel Yaffe's Surgery Division, so that they can be used by the surgical staff of the various departments," said Prof. Bickles.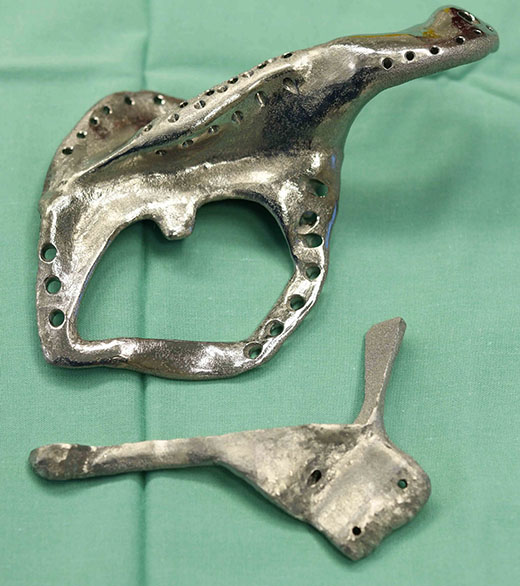 Top: The titanium implant. The additional component is a device that marks the excision line
of the tumor on the scapula.