The Safety Day was organized by Ms. Maram Kawer, Social Worker in Hillel Yaffe's Pediatrics Department, with the help of the social work students Siwar Hasadiah and Ahlam Shaikh Ahmed, and in cooperation with a representative from the Beterem organization, Haifa District, Ms. Abir Bakhit.
The day began with a welcome by the director of Hillel Yaffe's Department of Pediatrics, Dr. Adi Klein, who emphasized that while summer is a good time to speak about safety, due to its proximity to the summer vacation, the rules apply the rest of the year too.
This was followed by a range of experiential activities, aimed at raising awareness of the issue of a safe environment, identifying injury mechanisms, and important tips regarding how to safely traverse the summer. The participants enjoyed craft projects and a demonstration of foods that can cause choking, with suggestions of alternative foods and age-appropriate ways of eating. Likewise, movies and presentations were screened that showed statistical data regarding accidents in the home in recent years.
The day ended with the parents receiving explanatory brochures and guidance from the Beterem organization on safety and accidents in the home, and gifts were distributed to the children hospitalized in the department.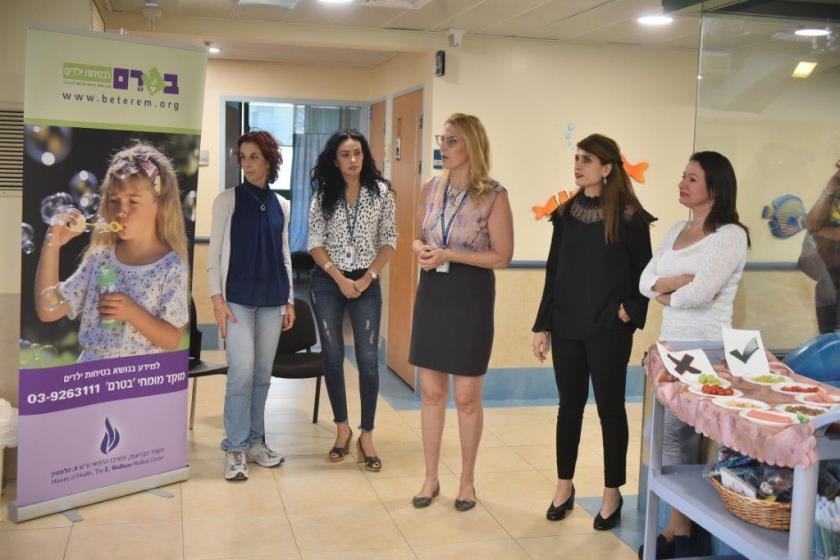 : Director of the Pediatrics Department, Dr. Adi Klein (center) opens the Safety Day