A 19-year-old arrived at the Emergency Room at Hillel Yaffe with acute ear pain. After examination by Dr. Or Dagan of the ENT – Otolaryngology, Head & Neck Surgery Unit, a severe infection was discovered in the auricle. It emerged that a week earlier, the man had pierced his ear to wear an earring in the upper part of the auricle and an infection had developed in the area of the piercing, leading to the ear swelling and an accumulation of pus requiring surgical intervention. Several hours later, a 58-year-old woman came to the Emergency Room with similar symptoms after having pierced her ear around ten days earlier. She began treatment with antibiotics and creams, and after not seeing improvement she came to Hillel Yaffe and was hospitalized for further treatment, including opening up the pierced area, inserting a drainage tube to drain the pus, and intravenous antibiotic treatment.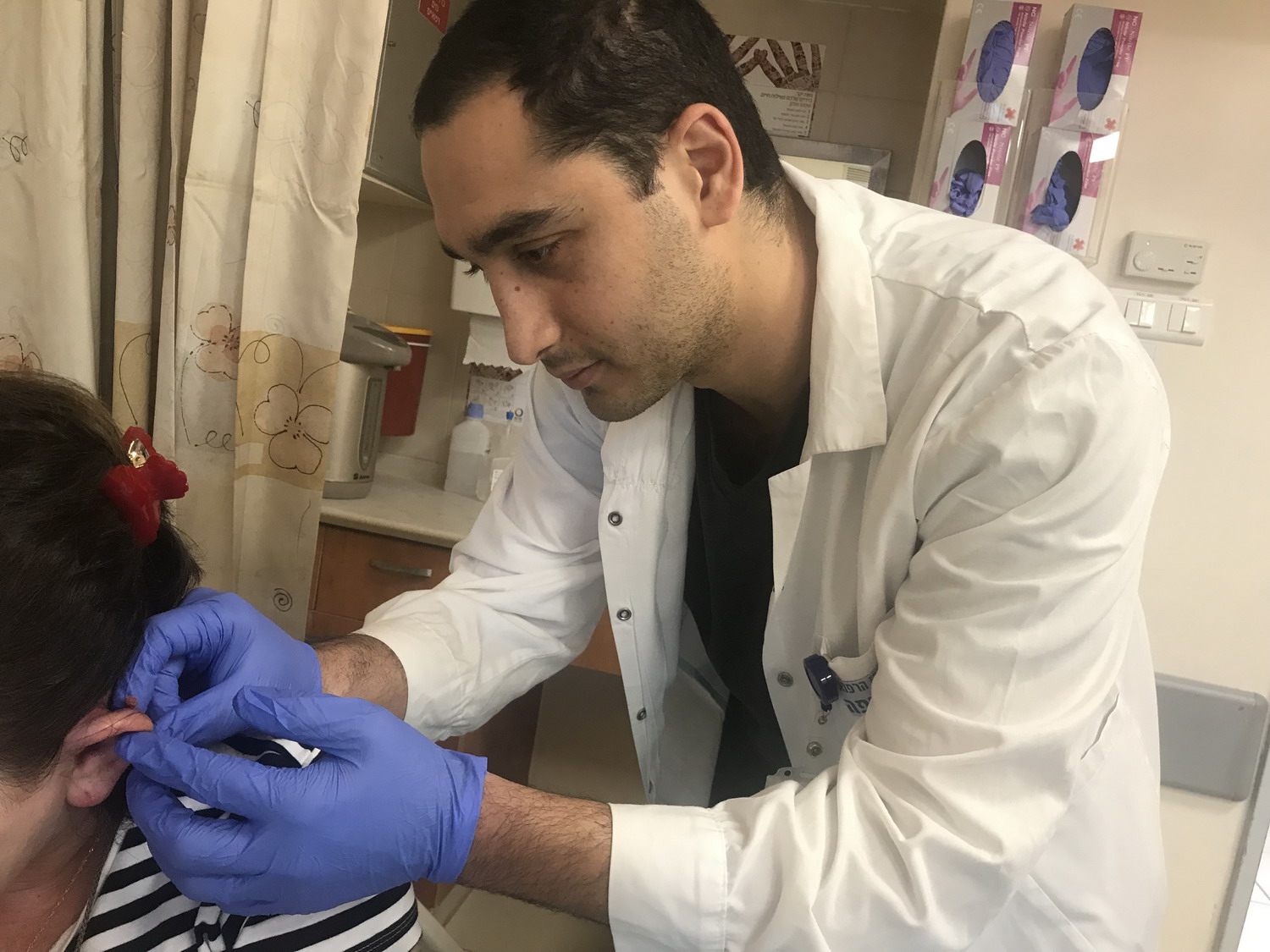 Dr. Or Dagan, from the ENT – Otolaryngology, Head & Neck Surgery Unit, during a follow-up check for the woman whose ear had become infected from piercing
Dr. Itzhak Braverman, Director of the ENT – Otolaryngology, Head & Neck Surgery Unit at the Hillel Yaffe Medical Center, notes that a piercing in the upper part of the auricle leading to such severe infection that surgical intervention is required, is common. When the upper part of the auricle is pierced, the cartilage is penetrated, leading to high risk of infection, since this area has relatively poor blood supply in comparison to other parts of the body, and therefore intravenous antibiotic treatment, with hospitalization, is required. In some cases, pus can collect, and it needs to be removed by drainage with the piercing being enlarged.
Dr. Braverman recommends that people wishing to pierce their ears should do so under supervision, using a professional who uses hygienic tools and with experience in performing the procedure. "It's true that it is basically a simple procedure, but it can lead to infections and complications to the point of the ear becoming disfigured if it is not treated in time," concludes Dr. Braverman.