The Neurology Department now has 24 inpatient beds, a dedicated intensive care unit for stroke, and is equipped with the most advanced medical equipment to provide optimal patient care.
The updated 1,000 sq. meters. Department is three times the size of the old department. The creation and equipping of the new Neurology Department with the most cutting-edge medical devices was made possible by Helmsley's grant.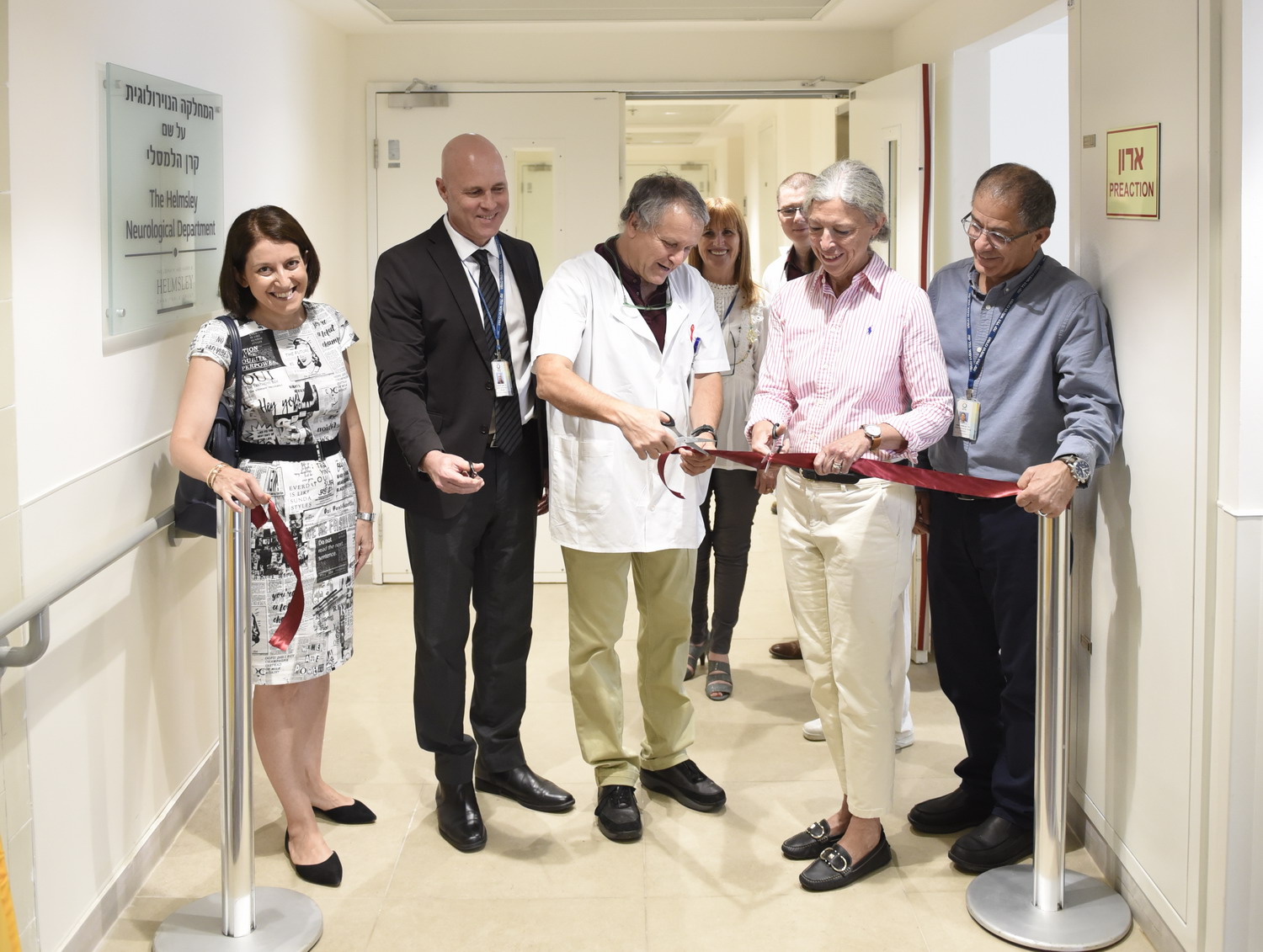 Dedication of the new area of the department, right to left: Administrative Director of Hillel Yaffe, Dr. Amnon Ben Moshe; Director of the Helmsley Charitable Trust's Israel Program, Ms. Breeze McMennamin; Director of the Neurology Department, Dr. Yaron River; Director of Hillel Yaffe Medical Center, Dr. Mickey Dudkiewicz, and Associate Program Officer for the Helmsley Charitable Trust's Israel Program, Ms. Louisa Valitsky
"The facilities, which previously had only 18 inpatient beds, now have 24 beds, and have been optimally tailored to the needs of patients, visitors and medical staff. In addition, the Department's new, dedicated stroke unit will provide in-depth, high-quality diagnostics and the most advanced treatment for stroke patients."
Dr. Yaron River, Neurology Department Director at the Hillel Yaffe Medical Center, comments: "Each year, the Neurology Department addresses a wide range of illnesses for over 1,100 patients in an outpatient setting and also provides approximately 9,000 consultations to inpatients in Hillel Yaffe's other departments who suffer from neurological complications. The new Department will let us treat more patients using advanced and innovative equipment and all within a spacious and pleasant environment."
Dr. Sergio Saturn, Director of the Stroke Unit, adds: "Opening the Stroke Unit, which is an intensive care unit, will enable faster and more effective delivery and diagnosis, especially in emergencies where time is of the essence. This is a major and significant improvement in our ability to treat patients."
Sandor Frankel, a Trustee of the Helmsley Charitable Trust, said: "Hillel Yaffe Medical Center's updated Neurology Department is a crucial addition that will enable the hospital to serve more people living in this region. The Helmsley Charitable Trust is proud to partner with Hillel Yaffe to create a more advanced facility to ensure high-quality neurological and stroke care."
Dr. Mickey Dudkevitz, General Director of the Hillel Yaffe Medical Center, comments: "Our appreciation of the Helmsley Charitable Trust for its activity in our hospital is boundless. Thanks to their generous contribution to the Neurology Department, the Hillel Yaffe Medical Center has been able to move the department into new, spacious and modern quarters that can accommodate the most advanced equipment as well as a dedicated stroke unit. This is a very significant step for the population of this growing region. Certainly, this important contribution will expand our Medical Center's ability to the high-quality medicine that we continually strive to provide."