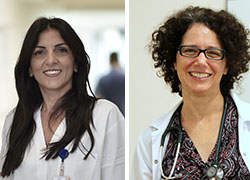 Left to right: Head Nurse, Aliza Vaknin and Director of the Travel Medicine Clinic, Dr. Sharon Reisfeld

Are you setting out on a trekking tour to Machu Picchu? Do you want to practice yoga in Goa, India? Or simply sunbathe in Thailand? Perhaps these are long trips, but advice and vaccinations are available close to home.
The Hillel Yaffe Medical Center has opened a new, vital service – the Travel Medicine Clinic. The clinic will provide advice and explanations regarding common diseases at various travel destinations around the world, which vaccinations are recommended before a planned trip, and how to prevent common sicknesses, including the required vaccines before you travel.
The Clinic Director is Dr. Sharon Reisfeld, a senior physician in the Infectious Diseases Unit, together with a multi-disciplinary medical, nursing, and administrative staff. As previously noted, the staff both provide advice regarding recommended vaccines and the vaccinations themselves. The advice is individually-tailored to each traveler – taking into account current health, destination, length of stay, and nature of the trip.
To schedule an appointment at the clinic, please call *6742 or 04-7744252.
For additional information about the Travel Medicine Clinic >>