During times when the fact that emergency rooms are filled to record capacity features in the headlines and social media networks, a gathering was held at the Hillel Yaffe Medical Center to dedicate the new area for the Department of Emergency Medicine. The project for the Emergency Medicine Department's renewal began over a year ago, with the goal of creating better hospitality conditions for both patients and medical staff. Approximately NIS 2.5 million was contributed by the Friends of Hillel Yaffe Medical Center to the project, with the remainder of the construction costs provided by the Ministry of Health (NIS 3 million) and the Hillel Yaffe Medical Center itself (a further NIS 1 million).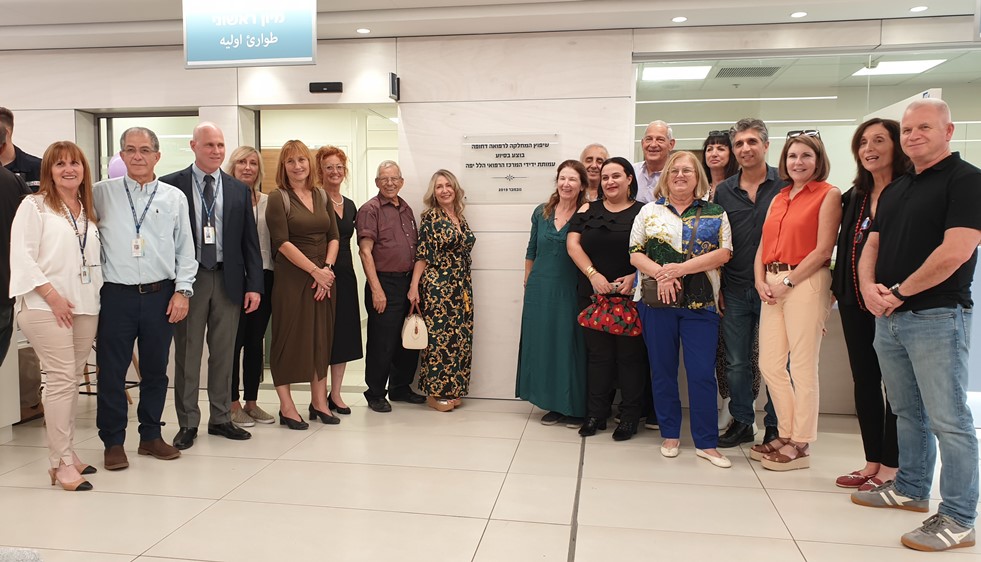 Members of the Friends of Hillel Yaffe and the Medical Center management at the entrance to the new Emergency Room area
The project, which involved expanding the area of the Emergency Room by a further 200 square meters, included improving the building infrastructure, rebuilding the treatment area, extending the Emergency Room for those capable of walking, preparing a new isolation room, improving service stations, the work counters and medication cabinets, adding equipment and new, modern, and functional furnishings, and a general renovation of the area of the lobby intended for waiting family members. The Friends of Hillel Yaffe also donated a sum of NIS 500,000 for developing an app that will help provide online information for patients regarding the expected treatment and its results.
Director of Hillel Yaffe Medical Center, Dr. Mickey Dudkiewicz said: "The Hillel Yaffe Emergency Room currently serves a population of around 500,000, which is anticipated to grow to around 650,000 by 2025. The number of patients using the Emergency Room has been steadily growing each year. We felt expansion of the area was vital for our patients."