At this year's ceremony, prizes were awarded to outstanding employees from the following departments: Emergency Medicine, the General Intensive Care Unit, Orthopedics A, Social Services, the Gynecology and Obstetrics Department, Technical Services, the Oncology Unit, Internal Medicine C, the Diet Service, and Internal Medicine B – a total of 12 outstanding employees (including two residents – a new prize this year) and two outstanding staff teams.
The event was emceed by telepathy artist, Roy Saltzman, who entertained the audience by mind reading, guessing numbers, and more.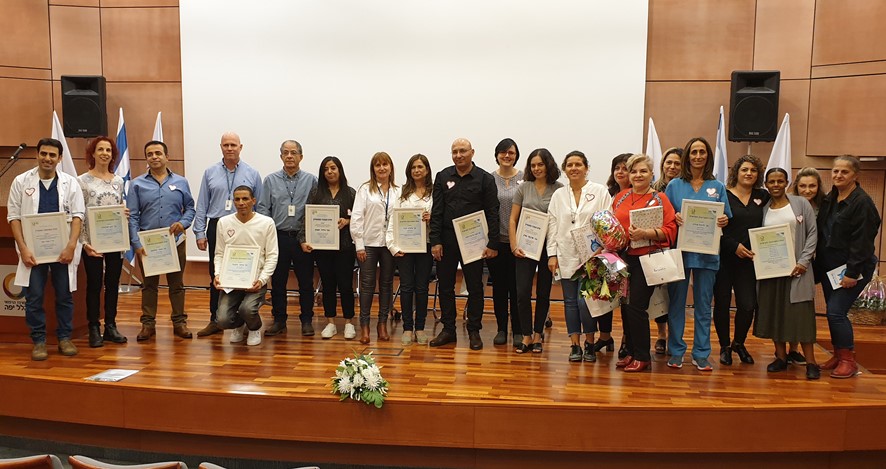 Hillel Yaffe's outstanding employees with the Medical Center management
Dr. Amnon Ben Moshe, Administrative Director of the Medical Center, who opened the event with greetings, noted that the outstanding employees tell the story of all the hospital employees: organizational identification, caring, total devotion, a sense of responsibility, and aspiring to the very best. The outstanding employees comprise a very special human and professional tapestry who illustrate the quality of activity and cooperation between the various roles and professions, as part of the hospital's activity to provide professional and high-level treatment and service.
Director of Hillel Yaffe Medical Center, Dr. Mickey Dudkiewicz, emphasized that to be outstanding means to do far more than the required, and that the outstanding employees are those who see what everyone else sees, but choose to do more and add another layer of excellence. He also added that the contribution of each and every employee makes it possible to take great strides forward, for the benefit of patients and their families, certainly in an organization dedicated to excellence. Both thanked the outstanding employees for their significant contribution to the Medical Center.
During the ceremony, which was organized by the Human Resources Department, the attendees were also greeted by the Chairman of Household and Administration, Mr. Avi Koch, on behalf of the committees, and Dr. Michael Kuchuk – Director of the Pulmonary Unit in Internal Medicine A, representative of the outstanding employees of 2018.