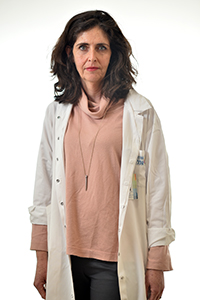 "Like the winter season with significant flu cases" Dr. Michal Shtein

According to the current picture provided by the Ministry of Health, up until now, around 3,400 children and teenagers up to the age of 19 have been diagnosed as carriers or sick with COVID-19. "From information gathered by the Israeli Pediatric Infectious Disease Society, we know about dozens of cases of children being hospitalized, the vast majority in mild condition, and they were hospitalized due to the need to be in isolation, and not because they were seriously ill. They all recovered without any damage, did not develop severe lung disease, with none even having to be on a ventilator. Only three children, aged 11-16, developed inflammatory cytokine storm which is similar to Kawasaki disease, were in a severe condition, got over it relatively quickly, and recovered," notes Dr. Michal Shtein, Director of the Infectious Diseases Unit at the Hillel Yaffe Medical Center, and Chair of the Israeli Pediatric Infectious Disease Society.
A study conducted by the Ministry of Health's Gertner Institute in Bnei Brak, one of the centers of the disease in Israel, found that the rate of infection among children is far lower than that of adults. The rate of infection among children up until age 10 is 20%-40% of that of adults, and at ages 10-20, stands at 30%-50% in relation to adults. Their ability to infect others was also lower than that of adults. "This observation dovetails with the reports received from other places around the world, which showed that the risk of infection among children is significantly lower than that of adults, and even if they catch the disease, we are talking about asymptomatic and mild disease. The chance of severe disease being caused in children is extremely rare," adds Dr. Shtein.
Can coronavirus cause Kawasaki disease?
In recent weeks, there have been cases reported of children from the USA and Europe who developed symptoms of an inflammatory disease which is similar to Kawasaki disease, caused by infection with COVID-19. Kawasaki disease was described in the 1960s in Japan, and is called after the doctor who defined it. It is characterized by inflammation of the blood vessels, particularly medium-sized ones, expressed in prolonged fever, bloodshot eyes, red and cracked lips, a red and swollen tongue, a rash, swelling of palms and soles of the feet, enlarged lymph glands, joint pain, increased signs of infection in the blood, and more. "The main fear regarding the disease is that infection of the coronary arteries will bring about long term damage by creating aneurysms (a kind of bulging) in these arteries, which can lead to higher risk of heart attacks. Likewise, Kawasaki disease characteristic of young children usually passes by itself, and it is exceedingly rare for it to cause multi-system failure. The disease is treated by giving antibodies and aspirin so as to halt the inflammatory process and prevent the bulging of coronary blood vessels," explains Dr. Shtein. T
he exact cause of Kawasaki disease is unknown, but it is accepted that various infections and viruses induce the inflammatory process which leads to the disease. Regarding the disease caused by the novel coronavirus (COVID-19), "classic" cases of Kawasaki disease have been documented along with a storm syndrome expressed in a multi-system failure. Many of the children needed ventilation and support with drugs which increase blood pressure, unlike the regular Kawasaki disease which does not require such treatment. In addition, we are speaking about older children, some of whom are adolescents, and it was even reported that a young adult of 26 had a similar storm syndrome.
Corona and the flu – What's the difference?
"Much of the management of coping with the current pandemic is based on knowledge of flu outbreaks, but for flu children are an extremely significant "source of progress" in the chain of infection. They pass on infection at a higher rate than adults and pass on the disease to their families, and therefore closing schools is critical in stopping a flu pandemic," explains Dr. Shtein.
Regarding COVID-19, we have seen that the rate of infection among children is lower than that of adults. In a review article published this month in The Lancet Child & Adolescent Health journal, it is written, among other things that a modelling study which examined the disease's spread among children found that closing schools will prevent at most 2%-4% of deaths, far less than other social distancing steps. The article reinforces the claim that closing schools is not a necessary step in preventing the spread of the disease. "The COVID-19 pandemic has badly harmed the economy and, unfortunately, it will probably take years to recover. The return of our children to their educational frameworks, particularly in the case of young children who need parental supervision, is essential to enable parents to return to work. The accounts that have been collected from the world and from Israel, regarding the lower rates of infection and ability to affect others, among children, encourage the step of opening the schools," notes Dr. Shtein.
In conclusion, to send or not to send?
"Parents' concerns are obvious and clear, particularly regarding children with chronic disease. Regarding healthy children, it is important to remember that although we cannot completely prevent children becoming infected with the disease, it is extremely rare for the disease to become severe. Right now we cannot know which children are at risk for the severe disease. At this point, we base ourselves on the knowledge accumulated from adults and the risk for severe illness from other diseases. The Israel Pediatric Association has published detailed guidelines regarding how children with chronic illness should return to school and preschool, and in general, this period should be viewed similarly to the winter season when there is significant sickness from viral diseases of the respiratory system. If you can send your children to school at the height of the flu season, it is reasonable to send them now too. It is important, of course, to make sure to wear a mask as much as possible, maintain hygiene, wash hands, maintain physical distance, and be vaccinated for other preventable diseases," concludes Dr. Shtein.