In a small ceremony, as required in these complex times, Hillel Yaffe Medical Center's academic nursing school was awarded first place in the Star Program (the incentive model) for nursing schools in Israel. The prize was awarded by the Nursing Administration in the Ministry of Health, sponsored by Prime Minister Benjamin Netanyahu and President Reuven (Rubi) Rivlin. The ceremony itself was held during the week of International Nurses Day.
As already mentioned, Hillel Yaffe's academic nursing school was awarded first place, out of 15 schools of nursing, in the program. The prize is given for making a value-based, professional, and human mark in the training of generations of male and female nurses in the State of Israel, for whom excellence becomes part of their way of life. Five indices were included in the parameters for winning: Management, recruitment of new students, ensuring quality of teaching – both theoretical and clinical, dropout percentages among the students, and average grades in the government licensing test. The school received a score of 100 in each of these –undoubtedly an amazing achievement.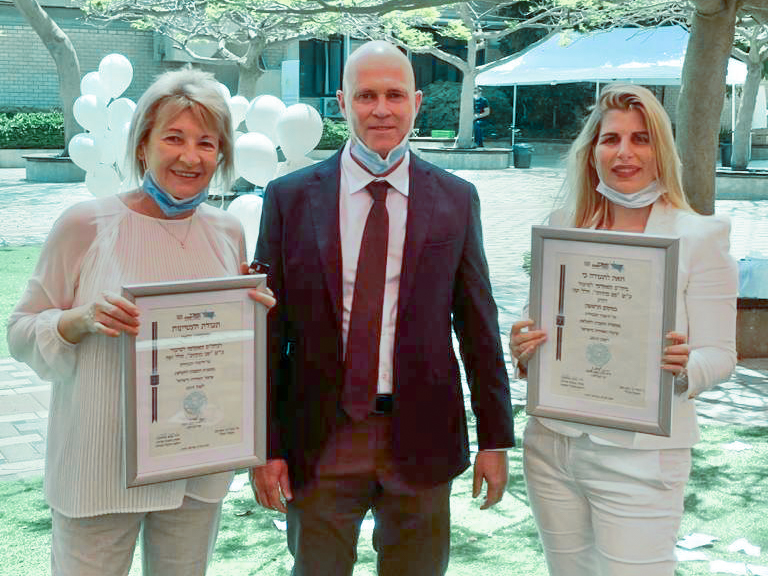 Dr. Merav Ben Natan, Dr. Mickey Dudkiewicz, and Mrs. Tamar Vechter, at the award ceremony

The prize was given to the school director, Dr. Merav Ben Natan, by Ministry of Health Director General Mr. Moshe Bar Siman Tov, together with the National Principal Nurse and Principal of the Nursing Administration, Dr. Shoshy Goldberg. Also present at the ceremony: Director of Hillel Yaffe Medical Center Dr. Mickey Dudkiewicz, and Director of the Enrichment Center at the School and Chairwoman of the Education Division of the Nurses' Union, Tamar Vechter.
Dr. Ben Natan: "We make great efforts to maintain excellence in training the next generation of male and female academic nurses in Israel. This is of great pride to us and an exciting achievement. We will continue to work to train male and female nurses with high levels of excellence, so as to improve the quality of patient care in Israel."