Last week the Hillel Yaffe Medical Center announced that it was returning to elective activity, including non-urgent surgical procedures, and also opened its clinics and institutes to the public. To maintain public health, some of the clinics at Hillel Yaffe are allowing consultations with the doctor "from afar" using video calls. The service, which does not require downloading any special app, is currently being used in several clinics, including those of high risk pregnancy, the psychiatric service, and the endocrinology clinic, and will soon also be offered in other clinics.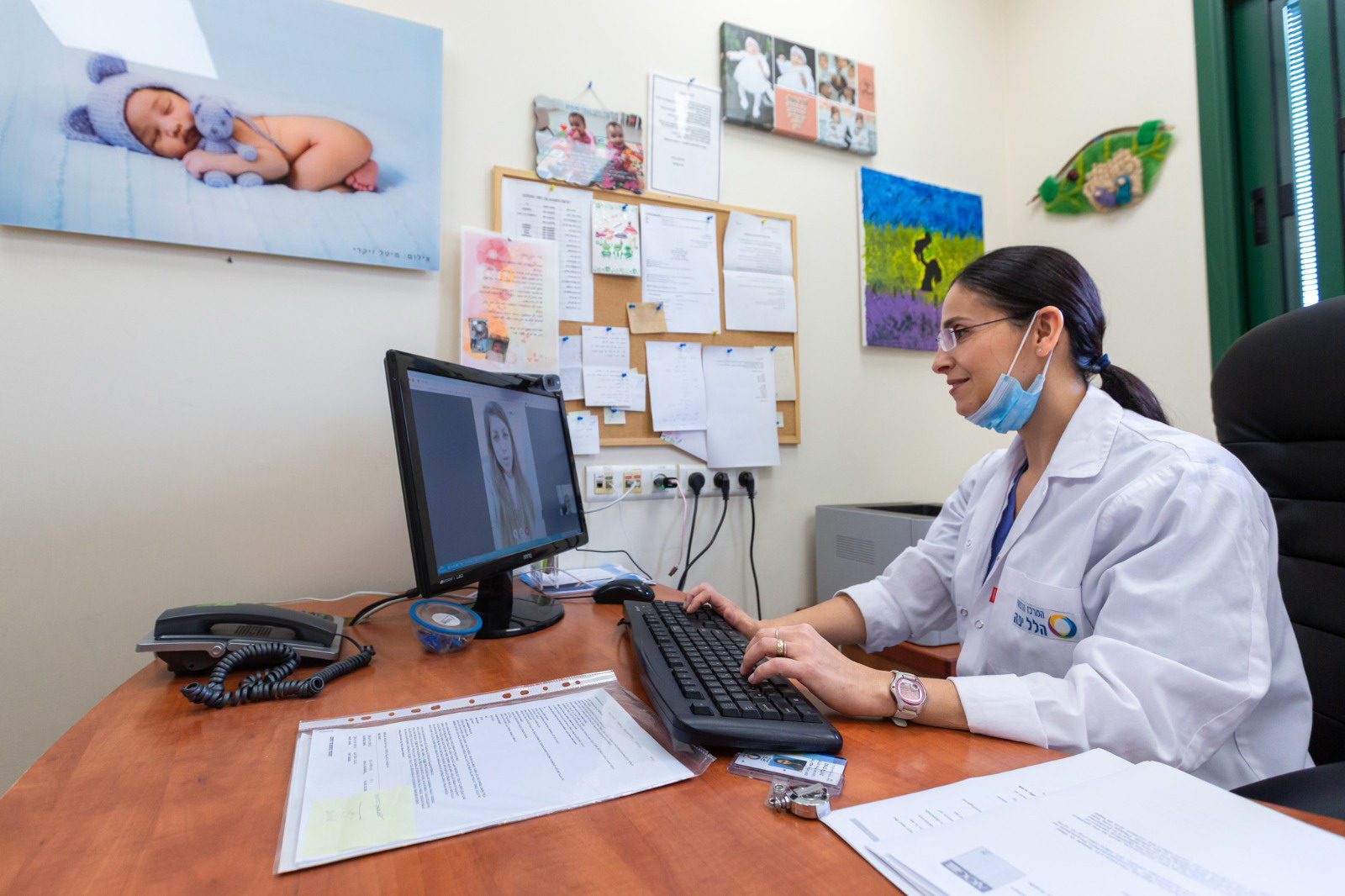 Dr. Rinat Gabay, Director of the High-Risk Pregnancy Unit, during an online conversation at the High-Risk Pregnancy Clinic. Photograph: Rafi Koren

What does the service make possible?
The service enables a video call with the patient. During the conversation, the doctor can talk to the patient to gain a visual picture, and also see all the documents which the patient chooses to show him. In the case of the high risk pregnancy clinic, for example, the woman can show sugar and blood values from healthcare fund testing, and more.
How can we schedule an appointment?
The appointment is made by the doctor in the designated clinic, while taking into consideration whether the session can take place from afar. The appointments center or department secretary call to offer the service to the patient, and an appointment for a "distance" examination is made. After this process, the patient is asked to transfer payment authorization from the medical insurer (health fund – Form 17) and other required documentation.
On the day of the appointment, there is telephone admittance, and afterwards the patient receives an SMS with a link to the video call with the doctor at the clinic. As already noted, it is a good idea to prepare medical documents which the doctor may need for the best possible consultation.
At the end of the meeting, the doctor documents the examination and the patient will be securely sent a copy of the medical report by email or fax. The patient will be invited to come for further check-ups as needed.
How can we ask for this and which clinics are working this way?
As noted, this is a service offered after the patient has made an appointment, or to follow up, in cases when it can be done from a distance. The service operates in some clinics by telephone, and in some also using a video call.
For a list of the clinics where the service is available (Hebrew), click here >>
Inquiries can also be made at the Appointment Call Center - 04-7744252